It was in June 2007 that the very first iPhone was released. Native apps were developed for the phone, and just over a year later in 2008, the App Store was launched. Till only a few years ago, most people on the planet did not even know what App design or even Apps were.
Fast forward to 2024 and Apps have become the lifeblood of the way we humans consume information, communicate with each other and do pretty much everything else.
The Best App Designs of 2007 looked like the work of a toddler when compared to the Best App Designs of today. The App designs of today are all about innovation, they are simple, they are elegant, they are intuitive, and they are designed to keep the user engaged.
Before we list our carefully picked 20 best App designs of the future, it is important to define what factors make an App design 'great'.
What makes Mobile App design great?
There are 3 main factors that we need to consider when looking for the best mobile App designs.
1. UI Design (User Interface):
The way an app feels, the way it catches our attention and the way it interacts with us, is all dependent on the UI design of that App. A user's visual interactive experience is dependent on the UI Design of the App, making it one of the most important factors to consider when selecting the best App design.
The most obvious factor to be considered when identifying a 'great' mobile app design: UI Design.
2. App Flow (Navigation):
We have all used Apps and websites with terrible navigation. That is the thing about great navigation, it is not memorable, terrible navigation is. A great App design should have navigation that is so fluid and intuitive that the user does not even realise they are navigating through the App.
One of the most striking differences between Android smartphones & Apple iPhones is their navigation flow. While Android phones have a drawer menu which is a drop-down list of elements, the iOS uses the tab bar and has no navigation buttons anymore. With Android, the designers have more functionalities available to them, while iOS has its own benefits and limitations.

This is the next most important factor in giving a mobile app design a yay or a nay: Navigation
3. UX Design (User Experience):
UX Design is a human-first approach to designing a product. Which in our case is an App. An App with a great UX design ensures that a user finds it easy to accomplish the task that App is designed for, it ensures the App feels intuitive and easy to use. A great UX Design will leave the user feeling like they want to use the App again. Which really is the primary role of any well designed App.
One of the prime factors when we try to identify a 'great' mobile app design: UX Design.
Alright then! With these 3 factors in mind, here is our list of the:
20 Best App Design Ideas of the Future
(In no particular order)
1. Best App Design (Wellness) – Loóna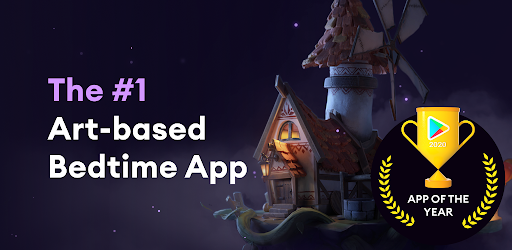 If you are searching for that perfect night's sleep then look no further than the Loóna Mobile App. This App makes disconnecting from a stressful day really easy with its collection of sleepscapes – a guided session that combines activity-based relaxation, storytelling, and atmospheric sounds in a unique way.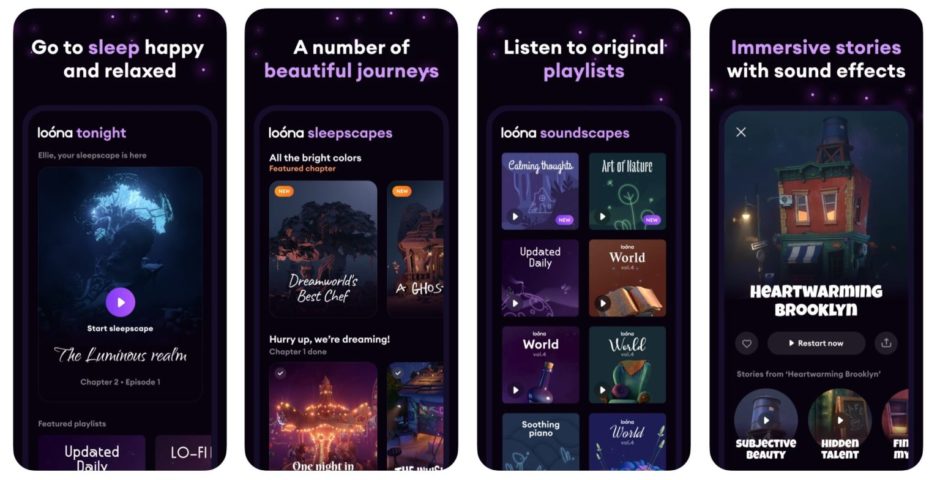 One cool aspect about the Loóna Mobile App is that instead of putting the user to sleep it promises to alter the user's mood that transports them to a night of blissful sleep.
This App was the Google Play Best App of 2020 and an Apple Design Award 2021 Winner for Visuals & Graphics.
Apple: App Store Link
Android: Play Store Link
2. Best Design (AR Lifestyle App) – Houzz
Built by the house renovation website with the same name Houzz is an App that covers all bases when it comes to renovating a house.
With its Augmented Reality feature, Houzz shows us how a great design can seamlessly integrate technology like AR adding immense value to its functionality. With a stunning 4.8 star rating the App consistently delivers on everything it promises and more. Houzz is another great example of how integrated AR will soon become a norm in all lifestyle Apps.
Apple: App Store Link
Android: Play Store Link
3. Best App Design (Game) – Sayonara Wild Hearts
When you win the 2019 game of the year and 2020 best design of the year awards from Apple, you know you have done something monumental with the design of your App!
The App industry is swarming with thousands of new and old games and Sayonara Wild Hearts has managed to stand out from the crowd with its dreamy design that makes riding motorcycles, skateboarding, dance battling, shooting lasers, wielding swords, and breaking hearts into a mesmerising experience. The game is available on mobile exclusively as part of Apple Arcade.
Apple: App Store Link
4. Best App design (AR Education) – The Star Shopper
This is our homegrown Aussie App that is redefining the potential for AR in educating kids. The Star Shopper App, built by Elegant Media, brings comic books to life by using Augmented Reality technology, making learning much more interactive and engaging.
A number of things make this App special. This App uses Augmented Reality, a technology that is bound to become ubiquitous in the near future. Also, this App is built to teach kids the skills to manage money as part of ASB's GetWise financial literacy schools programme for New Zealand students.
The seamless integration of AR-enabled learning which turns education into a fun experience for kids is what makes the design of this App a great one!
Apple: App Store Link
Android: Play Store Link
5. Best design (Meditation App) – Waking up
This not so well known meditation App might just be the best-designed self-help App in the world right now. The Waking up App tackles the tricky terrain of meditation and philosophy with the simplicity and ease of a design Guru.
The seamless integration of philosophy, interviews and meditation sessions is simply magical in Waking up. The success of the design team is reflected in the unheard-of 4.9-star rating the App has on both the App Store and the Play Store.
Apple: App Store Link
Android: Play Store Link
6. Best Design (Photography App) – Darkroom
Winner of the 2020 Apple Design Award for outstanding design, innovation, ingenuity, and technical achievement, this popular photography App makes regular updates to its design.
"This comprehensive and surprisingly powerful photo editor comes loaded with all the granular controls and moody filters you've come to expect — with an elegant interface that truly lights the way. Its simple Curves editor lets photographers of all levels fine-tune light and colour in an intuitive and artful way. Pros will appreciate Darkroom's ability to batch-edit images, open RAW files, and create custom filters. In the crowded world of photo-editing apps, Darkroom shines bright." – Apple
It might be worth noting that the App seems to have a much better design on Apple than on Android, going by the number of average/bad reviews it has on the Android Play Store.
Apple: App Store Link
Android: Play Store Link
7. Best App Design (Wellness) – Be My Eyes
Imagine a community of over 4.5 million volunteers, across 150+ countries and 180+ languages, coming together to help more than 300,000 blind and low-vision users.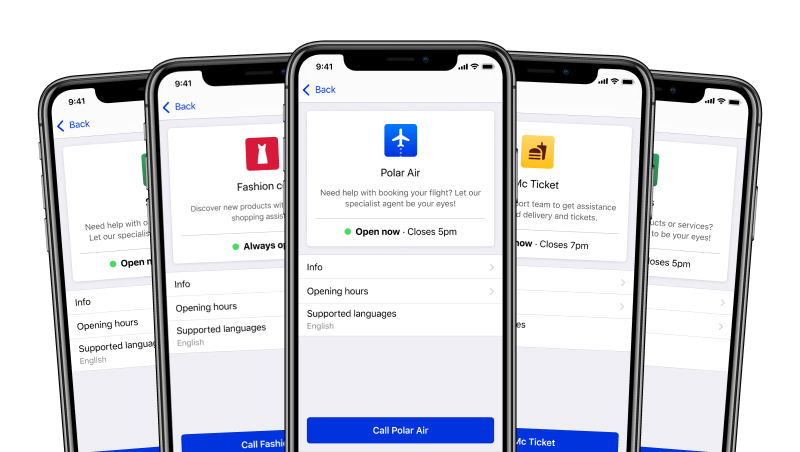 The Be My Eyes App empowers the blind and those with low-vision to identify objects by pairing them with volunteers from around the world using their camera.

This App was an Apple Design Award 2021 Winner for Social Impact.
Apple: App Store Link

Android: Play Store Link
8. Best Design (Travel App) – Trip.com
It is extremely unusual for a travel App to have a 4.8-star rating on the App store and a 4.7 star on the play store. Trip.com's incredibly easy to navigate design won it the 2019 material design award for universality and puts it amongst the best-designed travel App in the world.
"The app's layout and typographic scale construct a strong visual hierarchy that holds up across an impressive 19 supported languages. Cohesive iconography and playful colours (which all meet accessible contrast requirements) reinforce key actions and draw attention to important information." Google design team
Apple: App Store Link
Android: Play Store Link
9. Best App Designs (Game/Puzzle) – Song of Bloom
This 2020 Apple design award-winning puzzle game has been created by the German game developer Philipp Stollenmayer, who is known for his quirky, physics-based games
In this artistic puzzle game, challenges branch out from one another, keeping you engaged while taking you on a journey of beautiful dreamy visuals. There are hundreds of thousands of gaming Apps out there, what makes games like this unique is the out of the box thinking and the flawless game design.
Apple: App Store Link
10. Best App Design (Arts) – Looom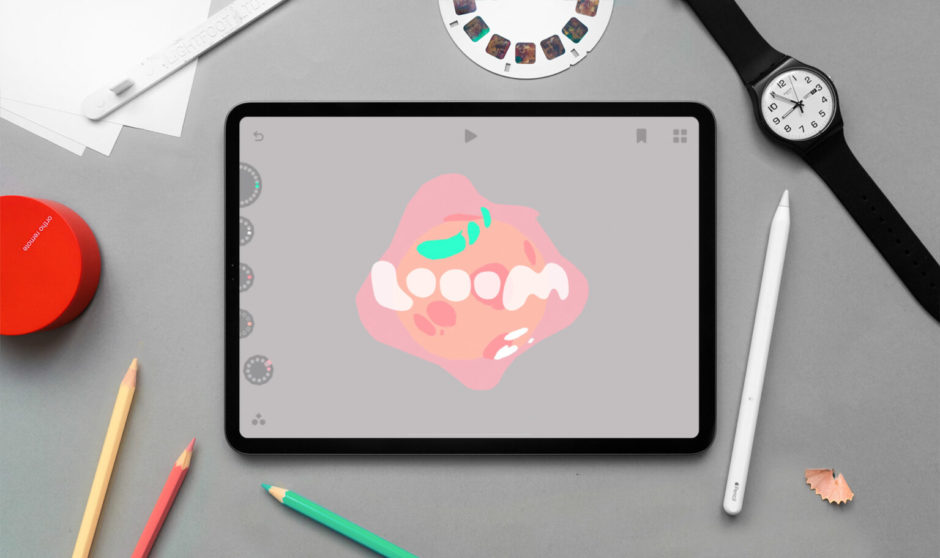 Upping the iPad drawing game, the Looom App makes hand-drawn animation quicker and accessible to all, making it an Apple Design Awards 2021 Winner. Using your finger or an Apple Pencil App users can sketch directly using this App and also undo or redo strokes as well. This App is suitable for all artistic abilities.
This App was an Apple Design Award 2020 Winner.
Apple: App Store Link
11. Best Designed App (Finance) – Mint
Managing money can get pretty complicated in modern times. Everything is digital and you can pay for anything by the touch of your phone. This is where this extremely helpful App comes in.
The Mint app has been designed to simplify the complexity of tracking our bills, expenses, investments and every other small finance-related detail. Its minimalistic and colourful user interface organizes and presents information about the users long-term and short-term finances in a flawless design. With hundreds of thousands of downloads and ratings as high as 4.7 stars, the App is doing everything it is supposed to do and it is doing them well.
Apple: App Store Link
Android: Play Store Link
12. Best App Design (Health) – Dip UTI
Dip UTI is a Mobile App that guides women to an undertake urinary tract infection (UTI) test at home and determine whether they have an infection.
Once a user completes the test an online doctor offers a diagnosis and a prescription if needed. Users can then have their medicine, delivered to their doorstep or pick them up at a local pharmacy.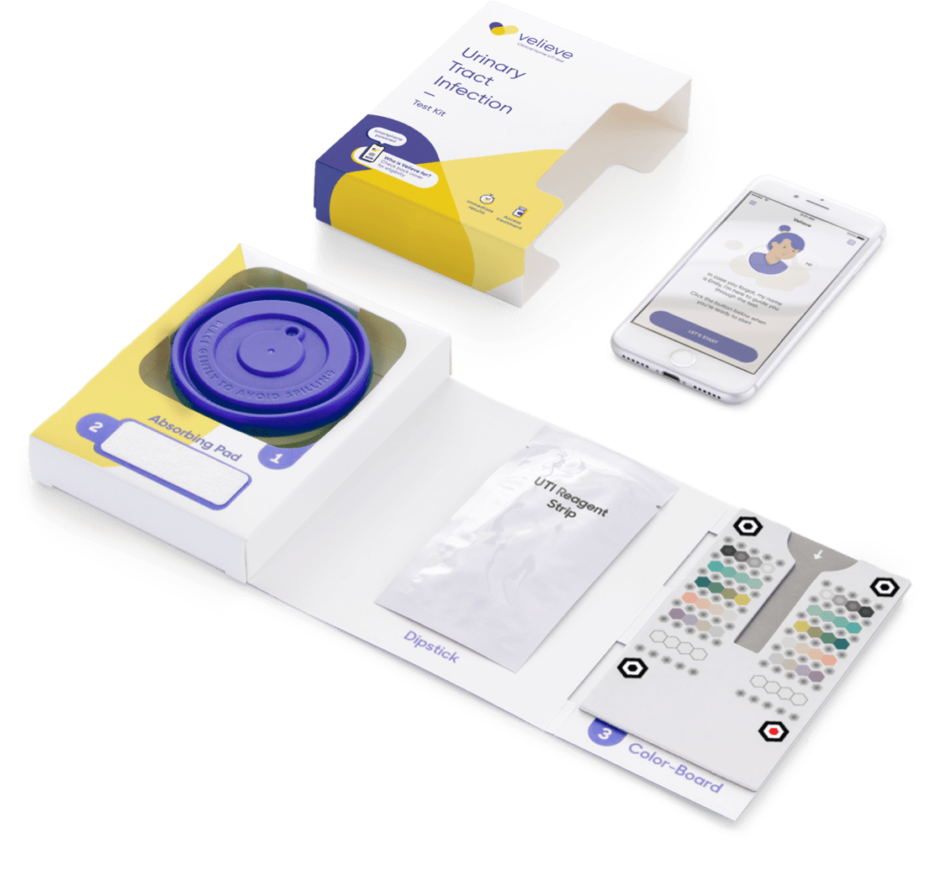 This App was a Winner of the UX Design Gold Award 2021
13. Best Mobile App Design (Shopping) -Asos
Using real people as influencers to drive sales of fashionable wear and accessories, Asos found the right balance by combining the time-tested aesthetics of a great designed App with the best practices of word-of-mouth publicity and social proof.
With more than 600K reviews and a stunning rating of 4.8 on the Play store and the App store, the Asos Apps unique design is clearly delivering and delivering big. Here is a recent customer review that sort of explains it all:
"I've being using the ASOS app for quite some time and have never had any problems with both the UI and the service provided. On occasion I have had to return purchased items (which has been my own fault for incorrectly sizing products) and the process is so incredibly easy and efficient. I do not have a bad word to say about ASOS whatsoever." Play store customer review.
Apple: App Store Link
Android: Play Store Link
14. Best Design (Banking App) – Current
For a financial app, Current has given quite a lot of thought to user-friendly design. Money is important, which is why it keeps its focus on the moolah and shunts all non-essentials into its menu.
As a financial institution, this App is competing with the banking giants and surprisingly winning at many fronts, especially with the younger crowd. A big reason, if not the biggest reason, for the success of Current is the user-friendly design of its App.
Apple: App Store Link
Android: Play Store Link
15. Best Design (Education/Training) – Peak
Peak is designed to help users achieve peak brain activity & maximize their minds' capacity. To achieve this the Peak's App design had to be extremely fluid and engaging, while effectively serving its purpose.
The App has won all the big awards there are to be won in the App world- App of the year, and editors choice for both the App Store and the Play Store. And with regular updates and stiff competition always edging at its heels, the Peak design team keeps innovating and improving the design of its App.
Apple: App Store Link
Android: Play Store Link
16. Best Design (Delivery App) – Glovo
This delivery App stands out amongst the crowd of delivery Apps in the world because of its great design. Clean and to the point: none of the explainers exceeds 4 words! This brevity itself shows all the thought that went into creating this versatile app.
Not just food, Glovo couriers all sorts of products from one point to another. Their peppy and fluid design has won them a stunning 4.8-star rating on the App store. Started in Barcelona in 2015, the Apps evolving design has a huge role to play in its global success.
Apple: App Store Link
Android: Play Store Link
17. Best Mobile App Design (Cooking) – Kitchen Stories Recipes
There are good reasons behind the 4.8 rating on both the App Store and the Play Store (from more than 30,000 reviews!) that KSR enjoys. The winner of multiple design awards in 2016 and 2017, the Apps delicious-looking design is still keeping things fresh with its updates.
The design of this App does a great job of keeping things simple and makes it easy to find what you are looking for in its massive library of recipes and videos.
Apple: App Store Link
Android: Play Store Link
18. Best Design (Education App) – Coursera
Learning never stops. It seems the Coursera app designers had this adage in mind when they designed it because the App flows like a library of courses that make you want to learn something new! It is hard to make higher education & training appealing, but they've done it!
With a stellar 4.8 star rating on the App Store, the Coursera App design manages to execute the groundbreaking idea that is the basis of Coursera. Download the App and browse through the endless variety of courses on offer and get learning.
Apple: App Store Link
Android: Play Store Link
19. Best Design (Music Production) – NaadSadhana
The NaadSadhana App was first created to help musicians practice classical Indian singing. Today with the help of artificial intelligence and machine learning the NaadSadhana App supports seven different genres of music.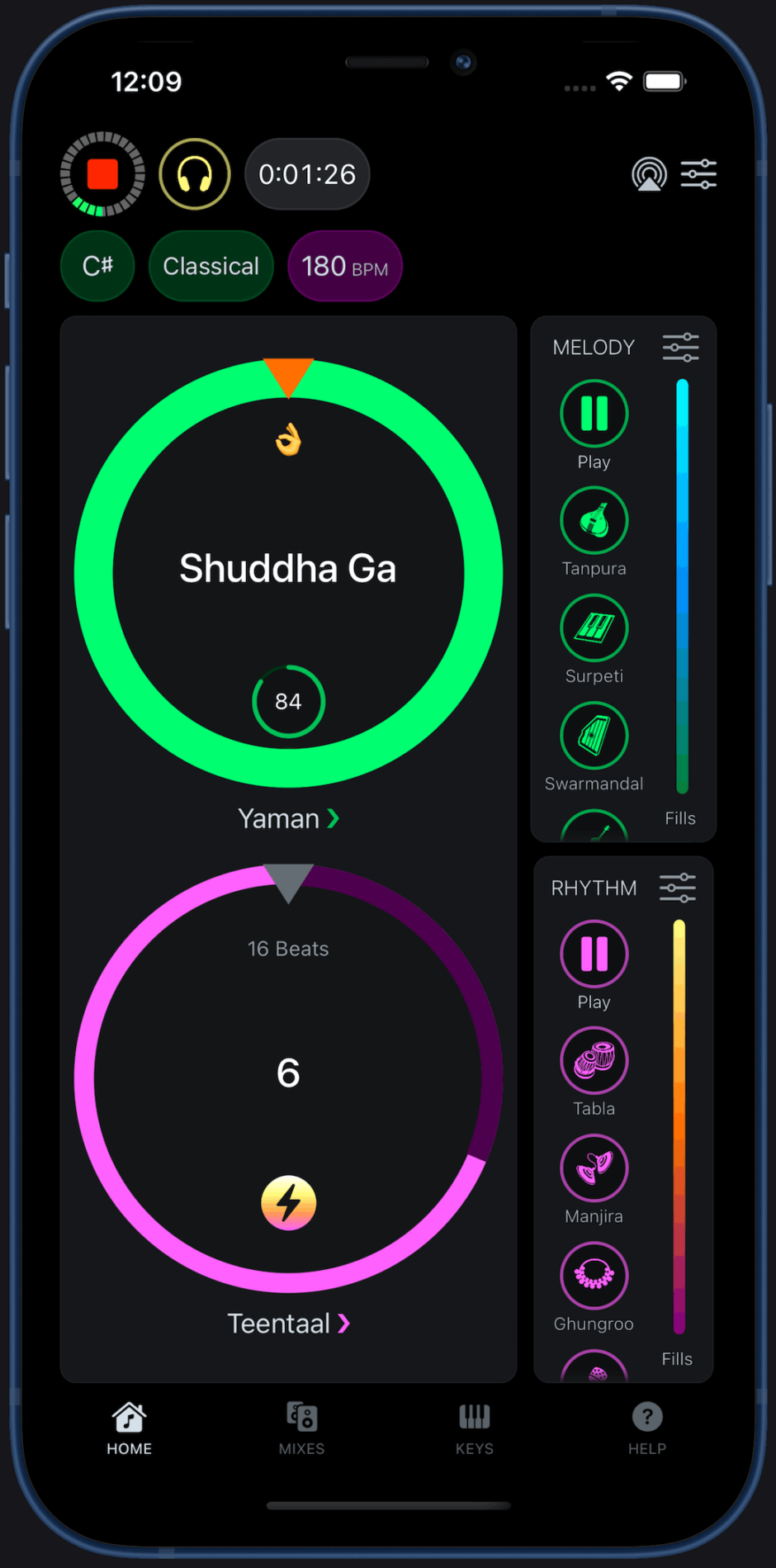 If you're an aspiring musician, the NaadSadhana App now helps musicians of all genres and any expertise perform and publish their music without boundaries all in top-notch studio quality.
The NaadSadhana App suggests a backing track that matches the vocal line and provides instant feedback helping with the accuracy of notes, all in real time!

This App was an Apple Design Award 2021 Winner for Innovation.

Apple: App Store Link
20. Best Design (News App) – Medium
Taking cues from their initial writer base and evolving constantly, Medium came out with a clean mobile app design that highlighted text (using the old-fashioned newspaper-style font, Noe Display) on a white background, making scrolling through articles a charming breeze.
This once fledgling news platform has been given a new lease of life by the excellent App design which has attracted hundreds of thousands of daily readers. Medium is a great example of how to design a news App in a way that keeps things simple and engaging.
Apple: App Store Link
Android: Play Store Link
Best App Designs of the future: Trends & Features
App designs will always need to innovate and evolve, there will never be a perfectly designed App. Because what is perfect today, will be obsolete tomorrow. As technologies evolve, so will mobile app design. As our culture changes, so will App design.
A great App design is one that simplifies the user experience and ensures an engaging experience. If you come across a design that deserves to be celebrated, then leave us a message and we might just add it to the list.
Our App design team at Elegant Media has won multiple awards for the successful Apps we have designed in the past. If you have an App idea and would like to know how we can turn it into a successful App with a stunning design, then contact us for a FREE no-obligation consultation with a Project Manager.