It is forecasted that Australia's eCommerce market will hit US$27.2 billion by the end of 2020. Mobile commerce heavily supplements this, one in four shoppers are now buying things on a mobile phone and 48% of people shop via mobile at least once a week. As more of us are buying products and services from our phones, it is essential to ensure a smooth user experience. This is where the difference between Progressive Web Apps (PWA) and Native Apps comes into play.
Let's say that Sam has an eye on a particular product that he can get from two websites. He logs in on both from his phone and notices a stark difference between the two. While one looks like a poorly adapted mobile version of the website, the other is a responsive and fresh mobile website that offers app-like interactions and allows you to work offline. There are no prizes for guessing which of the two the user prefers to make a purchase from. The latter is a well-developed progressive web app. A native App is a regular App that you have on your phone.
In this article we cover:
What is a PWA or Progressive Web App?
Progressive Web App success stories
How do Native Apps Compare? (Pros and Cons)
Progressive Web App vs Native Web Apps a comparison
Advantages of using progressive web apps for your business
Advantages of using native apps for your business
The final word on the Native App vs Progressive Web App debate
What is a PWA or Progressive Web App?
In simple terms, a progressive web app is a website that has the look and feel of a native app. It helps make quick and easy mobile purchases without the user having to download the app from Google Play Store or the iOS App Store. It also saves data in the cache on your Mac (or whichever device you are using) and works great with poor or even zero connectivity.
What makes a PWA so great?
There are many factors that make Progressive Web Apps great:
A PWA does not need to be installed.
A PWA lets you work offline.
They are SEO optimised. Which means that search engines can find them.
A PWA is still identifiable as an "application" thanks to Service Worker registration and W3C manifests.
You can access it as you please without having to install the app.
Its biggest plus, from the point of view of a web developer, is that it saves both time and money as compared to native apps. You just need HTML, JavaScript and CSS to develop it.
Progressive Web App success stories
A good example of a progressive web app is the Uber website, which has enabled the American company to reach out to new markets. The website loads in 3 to 4 seconds in 2G networks and its core app is only 50kB.
Another popular Progressive Web App success story is Pinterest. Before they built a PWA, only 1% of their visitors converted to signups. When Pinterest launched their PWA they saw an instant improvement in their vital performance metrics. Visitors spent 40% more time on Pinterest's PWA compared to the mobile website. The company experienced a 44% increase in ad revenue rate and a 60% increase in user engagement.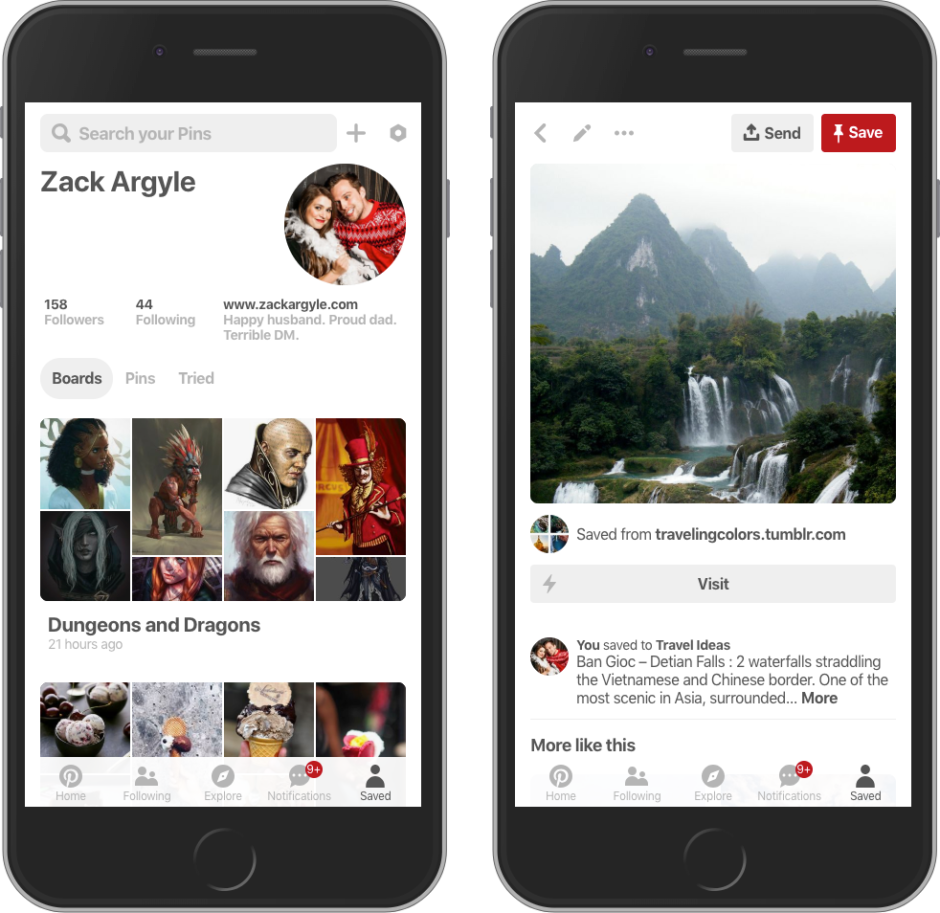 Cons of Progressive Web Apps
While PWA's sound like a fantastic option, they do have some glaring disadvantages which make them unfit for certain businesses.
What you gain in connectivity you lose in battery life. The technology of progressive apps is not meant for mobile phones, so your phone works harder and gets tired quickly.
Indoor geolocation is not possible with PWA because it cannot access Bluetooth.
It also doesn't have access to the user's contacts, calendar, alarms among other things, which limits its functionality.
Its main pushback comes from iOS because PWA is Google's creation and fully supported by Android. Progressive apps are not supported by many of Apple's primary features such as in-App payments, Face ID and Touch ID.
How do Native Apps Compare?
There are many advantages of using a native app if you compare it with PWA in terms of functionality.
Native Apps Pros
They can be installed directly, load many times faster because of stored data, all while promising excellent performance.
Interactions with other apps are seamless as well and you can connect to third-party services with ease.
Geofencing is a unique way of engaging with the user that comes with native web apps only. They set up virtual boundaries and when the user crosses them, they receive a push notification. Push notifications are a quality of PWAs too but they come with some constraints.
Native Apps Cons
The biggest downside of native Apps is that they are expensive to build.
They are complicated and hence require more time to build.
They require more money and time to maintain.
Progressive Web App vs Native Web Apps a comparison
Both progressive as well as native apps come with their own sets of advantages and disadvantages that can be weighed by businesses. From the point of view of an eCommerce business, the positives of a progressive app seem to outnumber its negatives with the first of the reasons being that it delivers more for less.
Development Cost of PWA's vs Native Apps
If you're a company that's just starting out and working with a budget, PWA is the better option. Since it has a responsive design, the progressive app is also faster to develop, requiring only one version for the app.
Creating a native app for a business is an expensive and tedious affair. It requires learning the language for it and developing at least two versions of the app – one for iOS and other for Android. The first versions of native apps can cost anywhere between $10,000 to $100,000. This is followed by updating and maintenance of both versions which can cost up to 20% of the initial cost. This is where we, at Elegant Media, step in. Our award-winning app developers work with you to deliver cost-efficient and award-winning native Apps.
Distribution Convenience of Native App vs Progressive Web App
In the case of native apps, the two created versions have to be submitted to different app stores and this can be time taking process. Other than the two popular app stores, there are Amazon and Windows stores as well, some of which require a certain fee to register an account. In comparison, PWA requires only a web browser and URL, enabling the developer to reach the masses swiftly and update the app without waiting on approvals.
Discoverability of PWA's vs Native Apps
The trouble with native apps is that they cannot be listed in the search engine or indexed easily. App Store Optimization (ASO) can help people find your app faster but it comes with its own set of tasks – effective title and meta-descriptions, keyword research among others.
Security of Native Apps vs Progressive Web Apps
PWAs run under HTTPS, which ensure a secure environment for the client. This means that exchanges between the user and the server are not tampered with and customer details can be entered without hesitation. In the case of native apps, you can build security with steps such as app login and Multi-Factor Authentication.
Advantages of using progressive web apps for your business
Convenience: The biggest advantage that PWAs have over native apps is that they don't require downloading. They don't take up space in your phone as native apps do and you only need a web browser to run them.
Offline mode: User can work the progressive app in offline mode and this way online store access is provided at all times
Budget-friendly: Cost-efficient and easy to develop when compared with native apps, PWAs are often preferred by start-ups as one development team is enough to build them.
SEO friendly: Users can look up PWAs and bookmark them easily with the help of search engines. These URLs are indexed by Google
A good example of websites that will do well with progressive web apps is social media websites that struggle with markets that have poor connectivity. Twitter Lite and Pinterest have expanded their business by creating PWAs to supplement their native apps. Here's how Twitter progressive web app- Twitter Lite, looks like.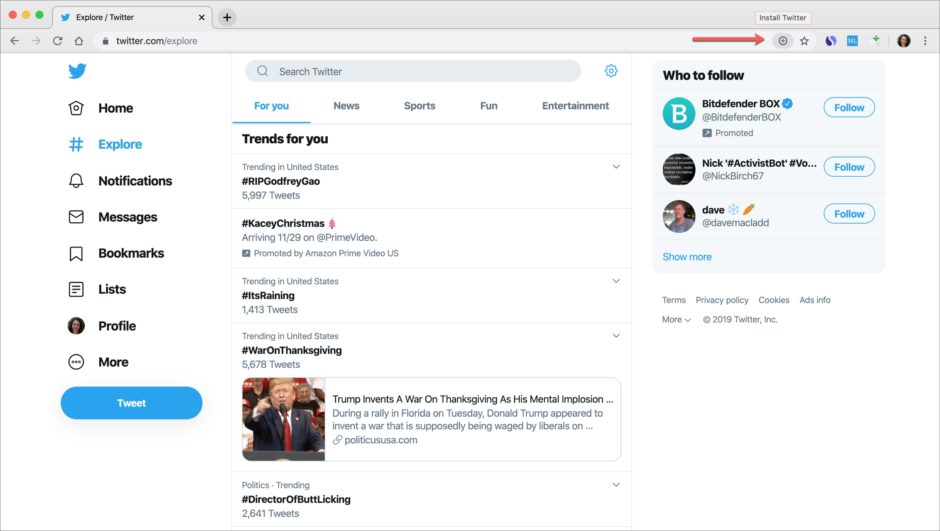 Advantages of using native apps for your business
High functionality: The number one advantage of using a native app is that they offer a premium experience. Since the app is already downloaded and can access the user's data, it loads faster.
Inter-app Communication: Connecting with third-party services is easy with native apps. Integration with apps is easy.
Geofencing: While push notifications are a feature of PWAs as well. Native apps use geofencing, which means the user receives a push notification when they approach a particular notification.
Businesses that are connectivity dependent and profit from offering personalized experience to their users can benefit from investing in native apps only. News publishing, fitness Apps, games and productivity Apps are a good example of this. Here's how The New York Times's native app looks on iOS
The final word on the Progressive Web Apps vs Native App debate
At the end of the day, both native and progressive apps deliver a seamless experience for users and so, a choice between the two will heavily depend on your business needs. In a nutshell, if you are starting out and working under a financial constraint, then PWA is a simple app that will take less time to develop and help you reach a large audience in less time and with ease. On the other hand, if you are looking to build brand credibility and want to create better app functionality then native apps are for you. A native App can be more time taking and expensive to build, but they can provide you with more options to monetize your business.
At Elegant Media, we have built extremely successful Progressive Web Apps as well as Native Apps. Whatever your goal, our multi award-winning App development team will guide you to the best possible solution.
Contact us today for a FREE consultation call with an experienced project consultant. You will get an overview of how we can turn your App idea into reality and whether you should build a PWA or a Native App and how much each will cost.