Rapid innovations in the domain of Virtual Reality has driven increased demand for VR App Development.
With increased mobility, the opportunities created for VR App Development are immense, as Mobile App users can now escape from their everyday reality through a smartphone.
In this article, we share 5 Great Ideas for Mobile VR App Development that are sure to get you thinking of developing your very own VR Mobile App in 2024!
What is Virtual Reality?
Virtual reality can be defined as a simulated environment that provides users with an experience that is similar to or completely different from the real world.
The widespread use of the term Virtual Reality can be credited to Jaron Lanier who was one of the first to design business-grade virtual reality hardware in the 1980s.
The 1992 film Lawnmower Man was one of the first to feature the use of virtual reality systems.
When immersed in a virtual reality environment, users are able to look around, move around and interact with virtual features or items.
Applications of Virtual Reality Technology
Architecture & Urban Design
Healthcare and Medical
Digital Marketing
Education & Training
Engineering & Robotics
Entertainment
Virtual Communities
Fine Arts
Heritage & Archaeology
Occupational Safety
Social Science & Psychology
Types of Virtual Reality
Immersive VR
This provides the ability for the user to look around and explore their virtual environment in an interactive manner.
Cyberspace VR
This form of virtual reality environment is restricted in its movement and is most commonly employed in training situations where users log in and observe or participate in a meeting, presentation or workshop etc. conducted in a virtual setting with fewer interactive elements.
What are Virtual Reality Apps
Virtual Reality Mobile Applications or VR Apps is when Virtual Reality technology is embedded within a Mobile App that can be most commonly accessed via a virtual reality headset or special projection rooms.
Most modern smartphones can now be combined within a head-mounted display and used to access virtual reality Mobile Apps.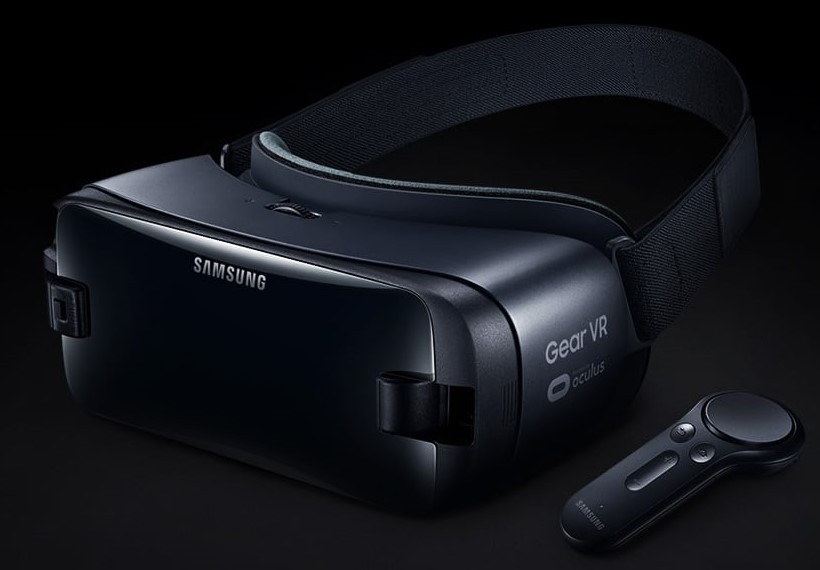 Most typically, virtual reality provides feedback to users both audio and visual, however, when it comes to VR App Development, it is also possible to leverage haptic technology to offer sensory feedback to users, adding value.
According to Statista, a leading provider of market and consumer data, in 2021, unit sales of virtual reality (VR) headsets worldwide are forecast to amount to 6.1 million units, bringing the total cumulative installed base to 16.44 million units. By 2024, the cumulative installed base of VR headsets is expected to surpass the 34 million mark.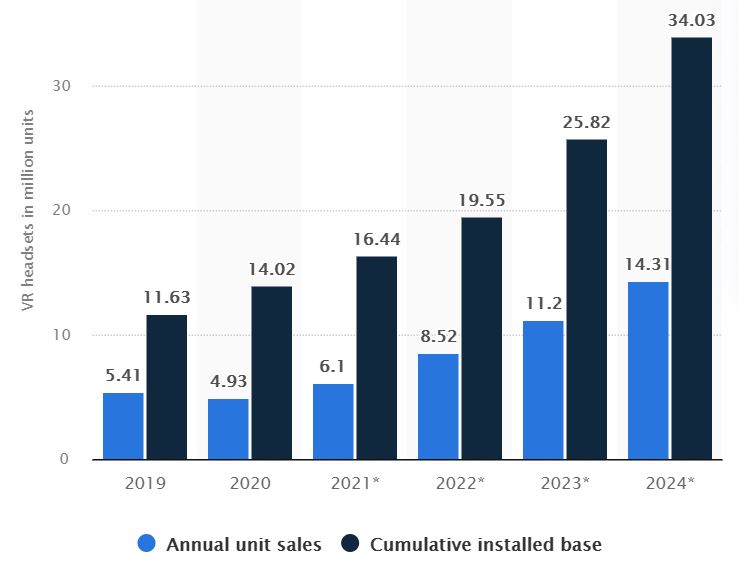 Advantages of VR App Development
Plenty of Opportunities for those with Good Ideas
Lots of Gaps And Problems to be Solved Using VR Apps
The Chance to get in on a Technology that is Constantly Evolving
Unlimited Monetisation Potential
Ability to Design and Retail Related Accessories
A Great Platform for Advertisers to Meet Consumers
Great Future Potential to Innovate and Differentiate
Disadvantages of VR App Development
Complex to Design
Expensive to Create
Cannot Make Hybrid Apps – Need One for each App Platform
Continuous Updating and Maintenance is Required
May Only Appeal to a Niche Audience
Now that you have a better idea about virtual reality and VR App Development here are 5 Great Ideas for Mobile VR App Development in 2023:
1. History Teacher using VR App Development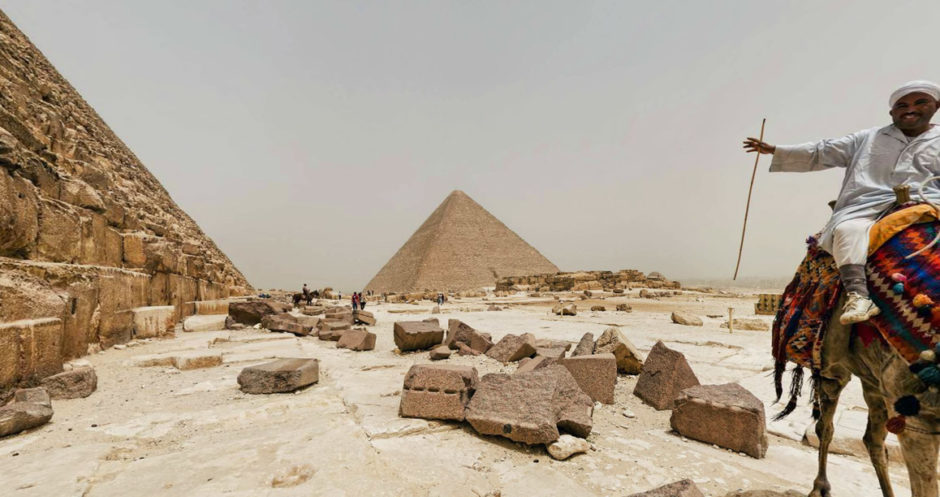 Why not leverage VR App Development and create a Mobile VR App that allows users to immerse themselves in the history of mankind.
This can include the ability for users and students to move around as they encounter all types of animals, people, tribes, historical events and so much more.
All major events in the history of human civilisation can be presented with in-built interactive features.
This will be great for young adults to learn about the history of mankind with interactive quizzes, games and tests to check their knowledge.
2. Wellness World using VR App Development
Personal wellness is something we are all guilty of ignoring at some point. So why not use VR App Development to design a Mobile VR App that will recreate a world of wellness for users.
Having entered this digital world, users can choose to do a yoga session with a virtual instructor or even enjoy a workout with a virtual personal trainer to motivate them.
When it comes to meal prep, your personal virtual chef will guide you step-by-step on how to make healthy meals according to your wellness goals.
Users can access the onboard media library to listen to soothing sounds, guided meditations and many more wellness-related tools.
3. Expat Tour using VR App Development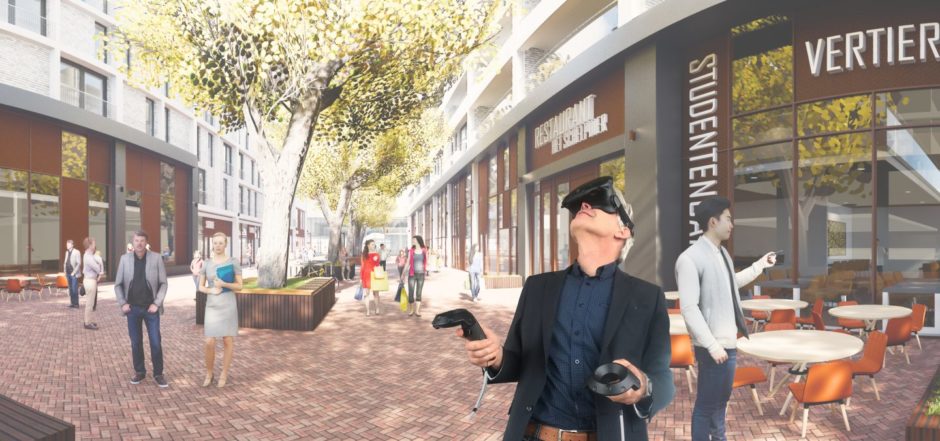 Expats are constantly moving around the world for work, so why not develop a city-based Mobile VR App, that offers users a tour of the new city they propose to live in. This can give potential expats a really good understanding of the city or destination they plan to make their next move to.
Your Mobile VR App can guide users along the main streets of the city and have interactive features in local shops or food outlets where expats can obtain a feel for the country and its local dialects.
They can even travel from their proposed residence to their work place as well, to get an idea of the daily commute they will undertake. There can be audio descriptions of popular tourist sites as well, as helping expats to grasp more about the local culture, customs and traditions.
4. Virtual Crypto Currency Trading Floor using VR App Development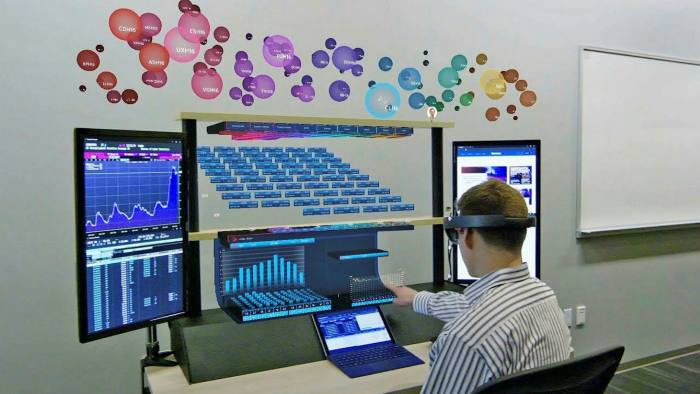 Bitcoin and other cryptocurrencies are all the rage these days, so why not build a virtual trading floor Mobile VR App where tech-savvy investors can go and trade crypto?
Think of the busy trading floors of the New York or London Stock Exchanges but virtual, with other brokers making deals around you and your Mobile VR App allows users (real-life traders) to interact with virtual touch screens and displays and make their own trades in real-time.
5. Virtual Memory Box using VR App Development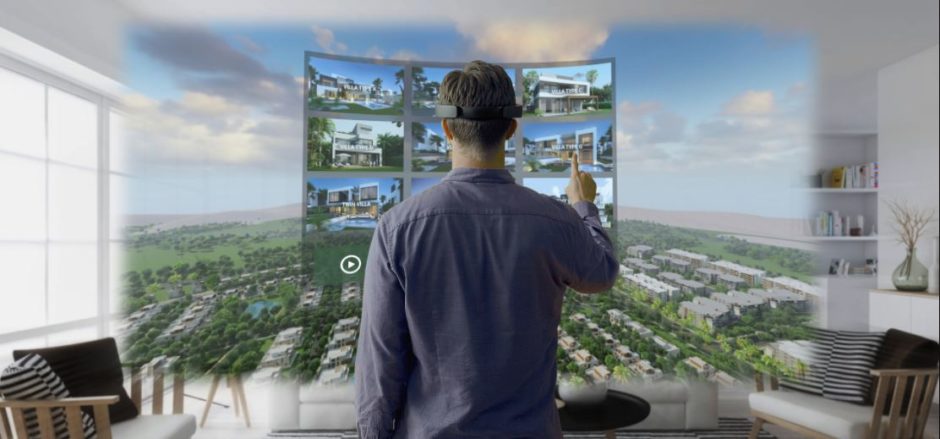 We all have memories we treasure and most often these memories have a place, setting and physical location.
As we all cherish the memories we have made, why not develop a Mobile VR App that allows users to reconstruct the places of their favourite memories.
Users can add sceneries such as beaches, mountains, towns, and cities and then proceed to add virtual items such as houses, people, pets and furniture to gradually recreate the setting of their favourite memories.
Users can access this Virtual Memory Box whenever they feel they want to escape from reality to a place where they feel happy and safe.
6 Questions on VR App Development
Is My Mobile VR App Idea Unique?
Can It Be Developed and will the Tech Work?
Will my VR App be accepted and listed to App Stores?
How Can I Monetize My VR App?
Will My VR App Require Constant Upgrades and Maintenance?
Can I Evolve My VR App To Keep Up With Future Technological Innovations?
Future of VR App Development
As smartphone users increasingly seek to escape from the new normal, the future of Mobile VR Apps. Underpinning this growth are advances made in other forms of emerging realities such as Augmented Reality and Mixed or Extended Reality.
Success Checklist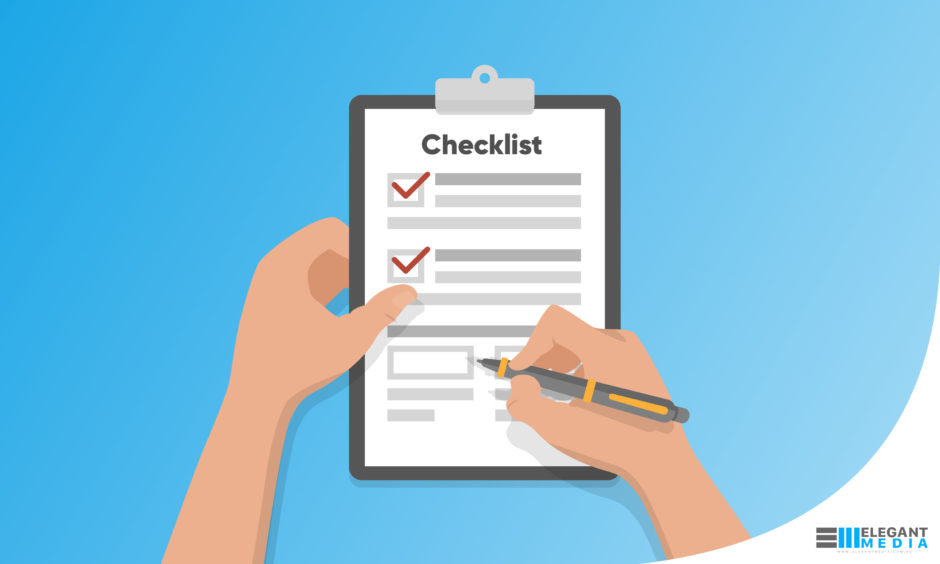 Come up with a Unique VR Mobile App Idea
Work with an Affordable and Experienced App Developer
Build an MVP if that helps get your idea off the ground
Develop and Launch your VR App
Monetise and Grow
Conclusion
So there you have it, 5 Great Ideas for Mobile VR App Development in 2023. If you are an aspiring entrepreneur or a taking off startup, why not develop one of these ideas and blaze a successful, profitable and personally satisfying trail, into the world of VR App Development.