If you are a business owner planning forward with a growth outlook then Microsoft Power Apps Development is just for you.
1. What are Microsoft Power Apps?
Microsoft Power Apps is part of the Microsoft Power Platform and allows users of all backgrounds to create and build, custom mobile applications.
Microsoft Power Apps empower businesses to address and overcome common operational challenges that hinder growth without the need to build and code an entire mobile application.
2. What else is on the Microsoft Power Platform?
The Microsoft Power Platform is completed with the addition of Power BI – providing data-driven insights to business owners, Power Automate – empowering everyone to automate business processes, Power Virtual Agents – to create and deploy AI-powered chatbots and Power Pages – to build low-code business websites quickly.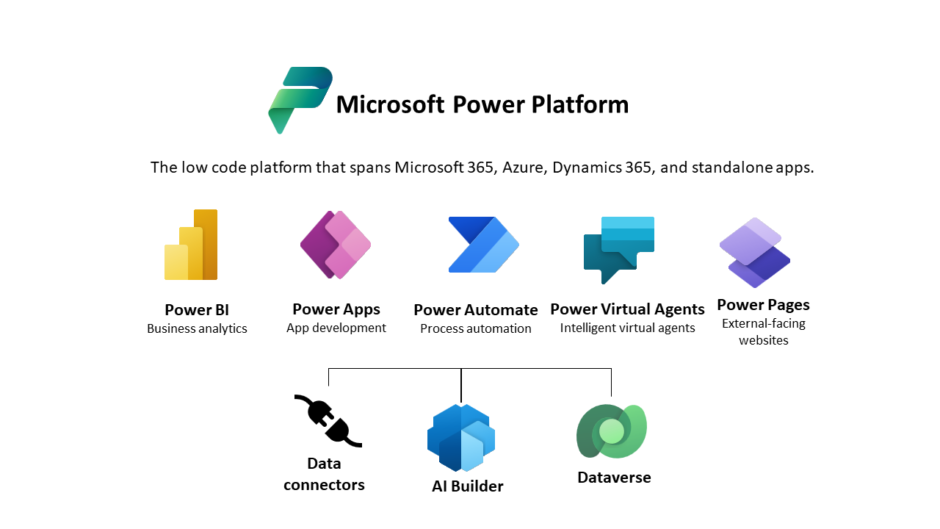 3. What is The Microsoft Ecosystem?
The Microsoft Ecosystem is a collection of applications, platforms and technologies that combine together to offer businesses of all sizes, an edge over the competition, with lean, efficient and productive business processes. Microsoft Power Apps connects your data right across the Microsoft Ecosystem.
4. What is Microsoft Dynamics 365?
Microsoft Dynamics 365 is a range of technology products and intelligent business applications that encompass components of Enterprise Resource Planning (ERP) and Customer Relationship Management (CRM).
5. What are the benefits of Microsoft Power Apps?
Low code App solution and easy to share
Easily connect to existing data sources including the Microsoft Dataverse or other custom or legacy data stores
Quick turnaround time
Works in sync with the Microsoft Ecosystem and Microsoft Dynamics 365 Business Central
In-built responsive design for multiple devices
Integrate business dashboards and process automation features seamlessly
Microsoft Power Apps is an extensible platform that allows external developers to interact, improve, build and develop mobile applications
Cost Effective business solution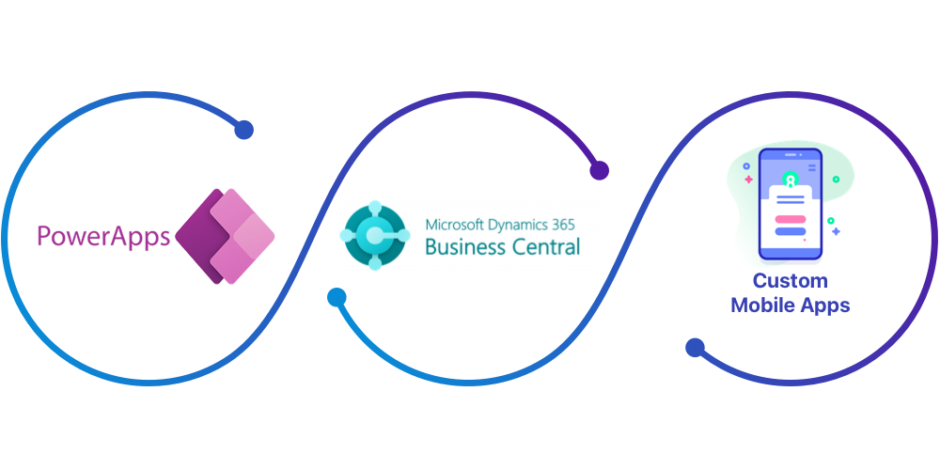 6. What are the benefits of Custom Mobile Apps?
Build mobile or web Apps on native, Android or iOS platforms
Unlimited customization of features and easy-to-scale up
Interacts right across the Microsoft Ecosystem and Microsoft Dynamics 365 Business Central
Smart end-to-end business solutions that underline growth
Valuable insights that support decision making
Safety and security of proprietary data
7. What is the business case for Microsoft Power App Development?
You can build a mobile app to improve different aspects of a business
Microsoft Power Apps helps business owners adapt fast to changes
You can now unify the data from multiple sources into a single workflow
Extensive savings in operational costs
Improved resource allocation for leaner efficiency
Enhanced overall productivity
Driving sales, revenue and growth across the board
8. What are the different types of Microsoft Power Apps?
Canvas Apps
Think of this as a blank canvas where your Microsoft Power App developer can design your App, screen-by-screen and you will have full control of the desired outcome. Microsoft Power App developers will add the data source and input the workflows and then finally create the design of your mobile application using Microsoft Power Apps.
Model Driven Apps
Microsoft Power Apps will design your application according to the data that is provided. Your data should be stored in the Microsoft Dataverse or similar common data service.
Portals
If you have a website that requires a variety of external users to be granted access, including anonymous users, then you can use this type of app.
9. What are a few examples of using Microsoft Power Apps?
If you have a sales force, you can develop a Microsoft Power App to help capture and track, the progress of the sales process. Because Microsoft Power Apps can be accessed via a range of devices, it is possible to use the camera function in a smartphone for example to gather data from the field.
If you have regular onboarding of new starters then you can build a Microsoft Power App to help with the onboarding, making the process more efficient and productive.
The nature of Power Apps means that a solution can be built for any area within your business that stands to benefit.
10. How does Microsoft Power App Development work?
The best solution would be to retain the services of a Microsoft Integration Partner that will work with your organisation to get a clear understanding of the specific requirements of your business needs and wants.
Having obtained the required insights, your Microsoft Power Apps developer will build and develop a mobile App that meets and fulfills the required business functions.
11. Who are Microsoft Power Apps Consultants?
Microsoft Power Apps Consultants are trained and experienced professionals that provide consulting for your Power Apps development project. The Project Consultant will guide business owners on how Microsoft Power Apps can be adapted to assist in improving business processes and simplifying workflows.
12. How will a Microsoft Power Apps Consultant add value?
Microsoft Power Apps Consultants provide expert guidance and advice on how to leverage Microsoft Power Apps in order to obtain the best return along with App development standards and best practices.
In Conclusion
Microsoft Power Apps is here to drive growth, revenue and productivity whilst improving business functionality and decision making. Power your growth with Microsoft Power App Development and Microsoft Business Central Custom App Development.