There are many push notification services present today, and these services can be found dating back to 1996. The reason that push notifications work is because they are targeted and are permission-based. The advantage here is that there is no chance of you sending messages to someone who doesn't want it, and you can use your data to push content that is personalised to users.
Push notifications are an unobtrusive alert that helps you get notified about important things. While they started as a service on emails, they have now become ubiquitous with both mobile and web. There are a large number of push notification tools available in 2021.
In this blog post, we take a deep dive into the 7 best push notification services in 2021 and help you choose the right one that can superpower your marketing efforts.
Table of Contents
What Is A Push Notification?
A push notification, which appears on either a mobile or desktop device, is a pop-up message that can be clicked. Think of WhatsApp, and the notifications it pushes out. On a more technical level, a push notification is a message that is sent from a backend server or a mobile App and desktop App. It is usually a brief message or alert that is sent through an installed App.
What Industries Use Them?
Statista states that 33% of people under the age of 34 enable push notifications on their phones. In the US alone, a typical smartphone user receives 45 notifications a day. This includes push notifications for a whole cross-section of businesses and Apps. This gives an indication of the potential future users you can send direct messages to about your business. According to the percentage split shown below, push notifications are mainly used by the e-commerce industry.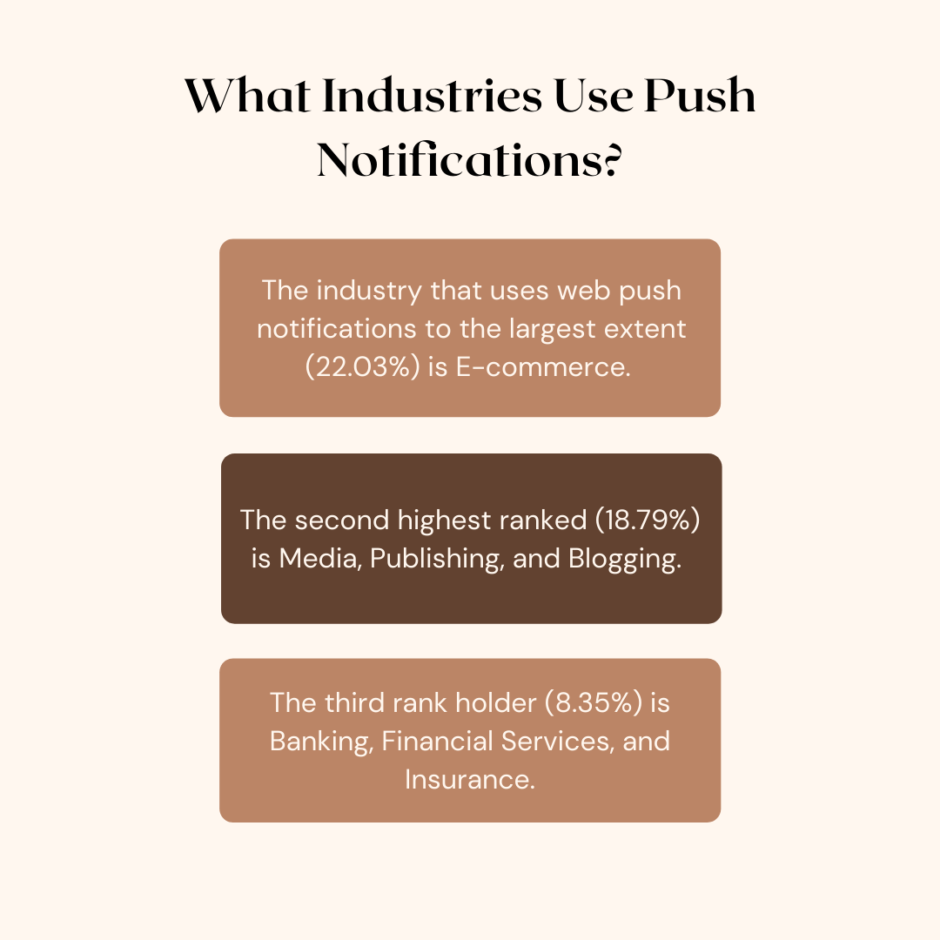 The majority of App installs are triggered by push notifications, and this statistic alone is evidence enough that push notifications as a service need to be part of a digital marketing team's strategy. Factors like the right type of copy and avoiding jargon is important since App user churn must be avoided. A good relationship needs to be created with the user while using positive language is also advisable. Ensure that there's a great call-to-action; while factors like Opt-In Rates, CTR, and Loyalty of Users need to be considered.
Why Are They Important?
Push notifications are an important marketing tool and provide a savvy business owner with many important benefits.
Push notifications are important because they create engagement and help with customer retention.
They help build sustainable brand loyalty.
You have the opportunity to convert communications into transactions.
Push notifications help in getting a user back into an App.
There is the uplifting of the retention rate and the boosting of engagement along with sales.
There is a potentially negative side to push notifications as well. If users get annoyed with constant messaging and alerts, you could end up with annoyed customers uninstalling Apps. You need to understand the kind of notifications users want to receive while making them attractive and useful.
Push notifications need to be on your road map. While a click is widely regarded as being a commitment, push notifications can lead to better audience engagement, and also to conversions. As per the statistics on Invespcro, push notifications can boost App engagement by 88%. They can also lead to 48% of mobile users making an in-store purchase.
What 7 Push Notification Services Are We Comparing?
This is the age of privacy where the safeguarding of personal data is important. It is where customers shy away from unwanted messages or emails. This is why push notifications work well since they work on the idea of permission-based marketing. While there are many push notifications services out there, these are the 7 worth considering in 2021.
1. PushEngage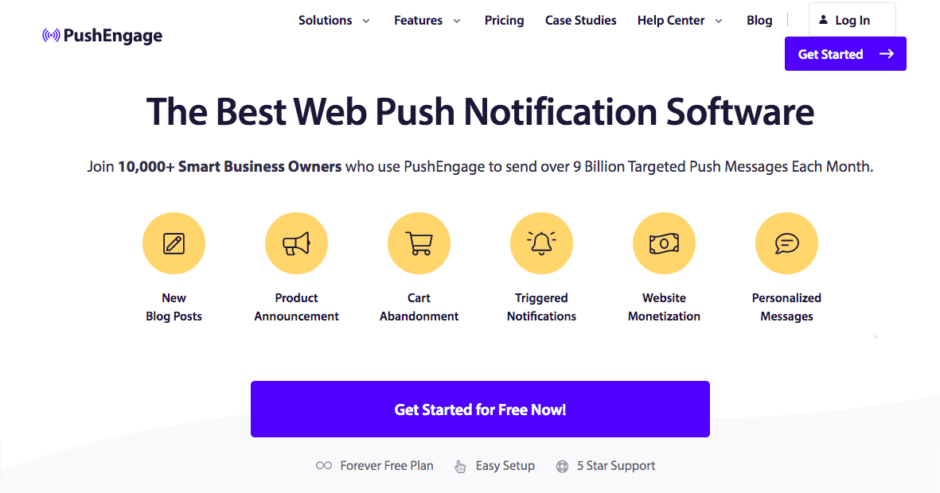 PushEngage is a personalised mobile and web push notifications service. It uses the automatic segmentation of your subscribers and auto-responders to send notifications. PushEngage, which has achieved a great deal since 2016, has over 10,000+ customers in more than 150 countries. The platform is used to send over 9 billion notifications each month.
PushEngage offers the following features:
Triggered notifications
Dynamic segmentation
Automatic drip campaigns
A/B testing
Offline notifications
Personalization
Cart abandonment reminder
Goal tracking and analytics
A Standout Tool Because…
PushEngage stands out because of its intuitive UI, which offers a great user experience. Moreover, its feature of dynamic segmentation is a really neat plus.
2. OneSignal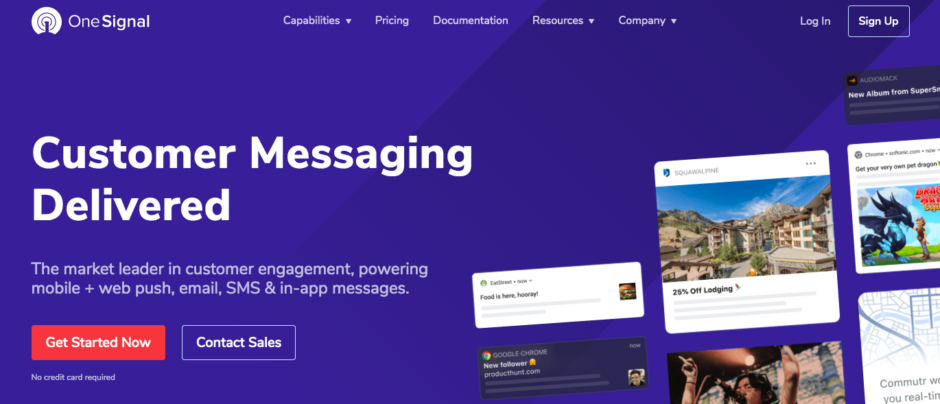 A market leader in its own right, OneSignal is a customer messaging and engagement solution. It offers an array of features like mobile and web push notifications plus in-App messaging, SMS, and email. The numbers speak for themselves: this multi-channel platform enables over a million businesses to deliver over 8 billion messages daily.
OneSignal offers the following features:
Supports Chrome, Safari, Microsoft Edge, Firefox and Opera
Automatic notifications
Targeting segments
Opt-In customisation
Real time analytics
A/B testing
Scheduled notifications
A Standout Tool Because…
OneSignal stands out because it caters to both mobile and desktop. This really is its redeeming feature that has found a billion customers globally.
3. VWOEngage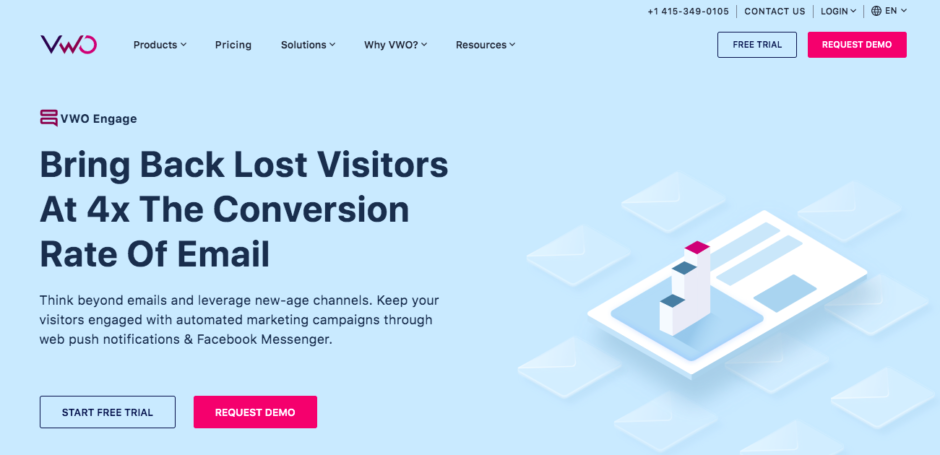 Formerly known as PushVWO, VWOEngage is one of the most popular web push notifications platforms in the world. VWOEngage is designed to create meaningful customer connections and has everything a business needs to reach out to its customers in real-time. VWOEngage boasts over 6,000 customers and has customers like Lenovo, Dominos, and Ubisoft.
VWOEngage offers the following features:
Scheduling push notifications by subscriber's timezone
Use custom dimension in segmentation
Send at optimal time
Segment users using javascript API
A/B testing in push notifications
Use personalization feature
Set the timezone of notifications
RSS to push feature
Add CTAs in push notifications
Setup cart abandonment campaign
Triggered custom campaigns
Add big hero image to push notifications
Use messenger marketing
Welcome drip
Time to live feature
A Standout Tool Because…
VWOEngage is part of a customer data platform and marketing automation suite offered by WebEngage; so, there's the added benefit of tapping into a separate set of marketing tools. This can be useful when considering the customer lifecycle.
4. iZooto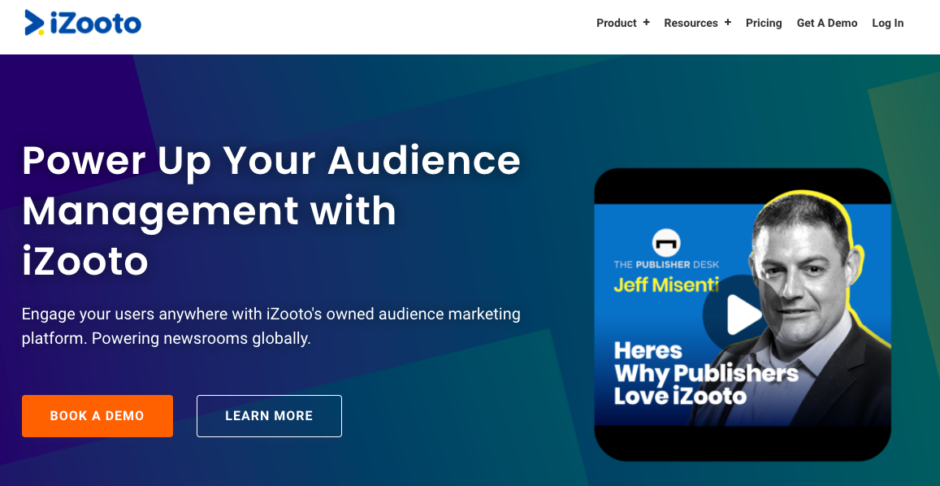 iZooto is an audience marketing solution that uses push notifications as a way to help publishers build, own, and engage their audience. With iZooto, publishers can take charge of their audience and minimise their dependence on search engines and social media channels like Google and Facebook. Publishers can engage their audience with automated notifications that are personalised to build repeat traffic and earn more from their display ads.
iZooto offers the following features:
Recurring notifications
Scheduled notifications
RSS to web push notifications
Subscription templates
Timezone-based notification delivery
Email/Chat support
Device-based targeting
Subscription-based targeting
Geo-based targeting
Integration with RSS feed
Opt-in to monetize with ads
Campaign scheduling
A Standout Tool Because…
iZooto is pitched as an audience marketing solution, which helps publishers build, own, and engage their audience. This tool stands out because it provides a vast degree of optimization and helps to make segments and assists with the tracking of reports of each campaign.
5. Webpushr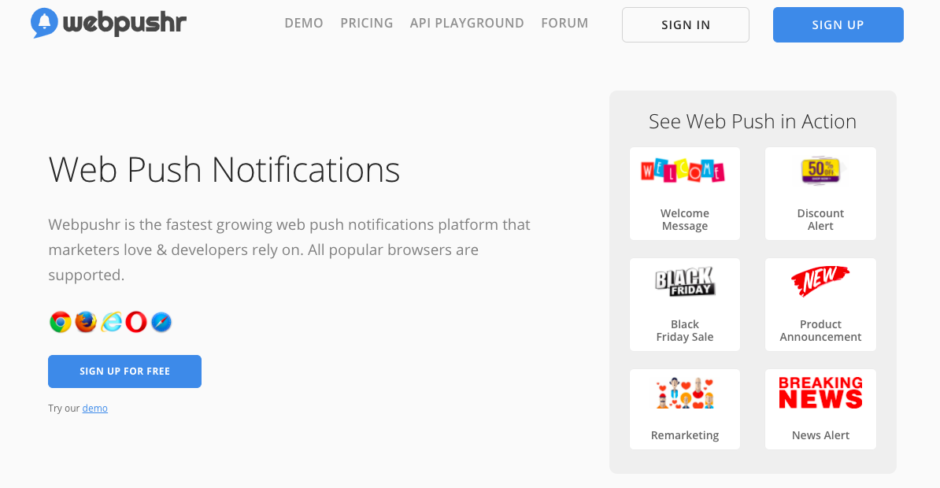 Webpushr appeals to both marketers and developers alike. Taking only a few minutes to install, Webpushr has the capability to assist with welcome messages, discount alerts, product announcements, remarketing, and reminders. With a cross-section of various integrations, this tool allows you to create a compelling marketing narrative that will convert leads into customers, and maintain brand loyalty.
Webpushr offers the following features:
Data privacy and ownership
Effortless integration
Scalability
Powerful user segmentation
AMP support
Automatic web push
Non-HTTPS support
Powerful API
WordPress plugin
A Standout Tool Because…
Webpushr is mainly loved for its real-time capabilities. Furthermore, it is a lightweight option that won't bog you down with excess code.
6. Pushassist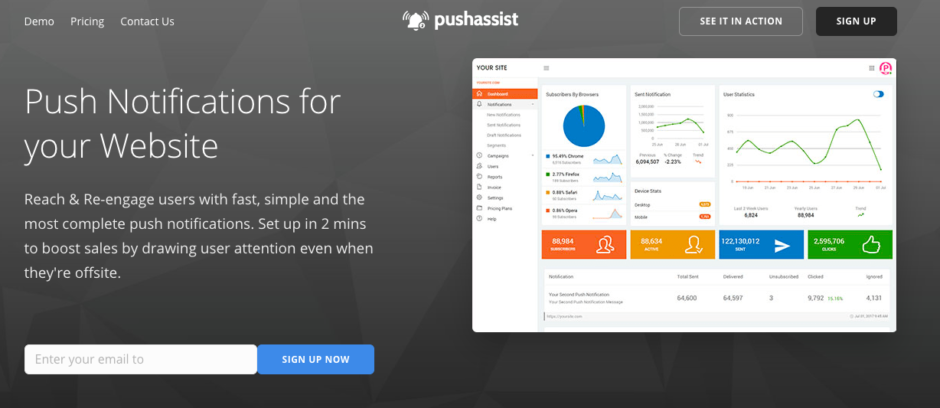 Widely regarded as a great user engagement and retention platform, Pushassist uses web push for higher engagement and leads conversions to target users with real-time notifications. Pushassist, which is a tried and tested tool, assists with pushing notifications to web browsers efficiently and effectively.
Pushassist offers the following features:
Email/Phone support
AMP integration
Drip campaign
A/B testing
Geo targeting
One click unsubscribe
Custom domain integration
Dedicated cloud infrastructure
HTTP + HTTPS support
A Standout Tool Because…
Pushassist is a worthwhile option because it has a wider browser reach. What this means is that it functions across all browsers, and the service helps double the open rate with a segmented push.
7. WonderPush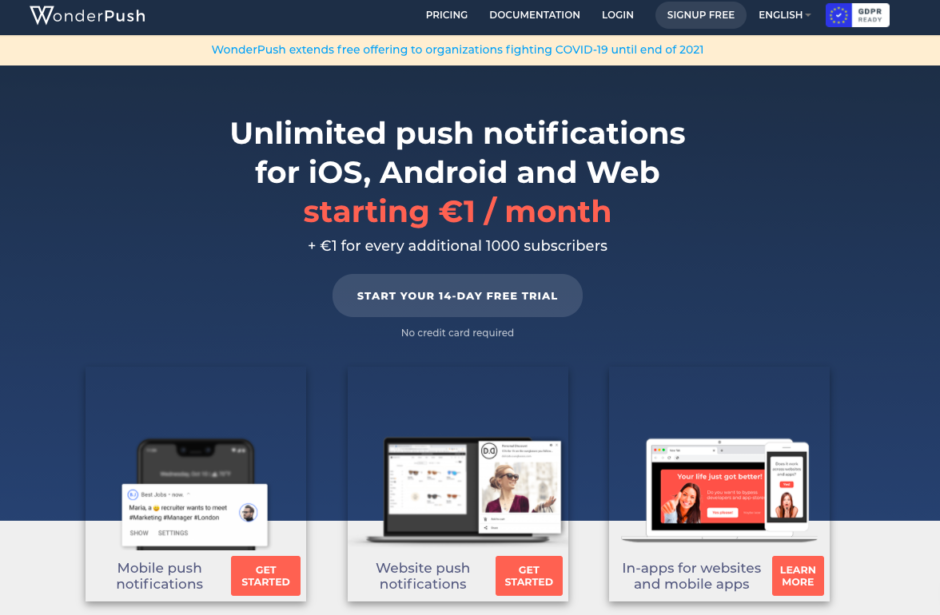 WonderPush is the fastest platform offering mobile and web push notifications, in-App messaging for iOS, Android, and websites. Easy to set up, WonderPush is a powerful solution, which enables thousands of developers and marketers to send more than 350,000 notifications per second.
WonderPush offers the following features:
Full control of your user data
Real time reports
Live chat support
Geo-targeting
Visual notification editor
A/B testing
Role-based user management
Send push notifications programmatically
Two-way synchronisation with your systems
A Standout Tool Because…
WonderPush offers a hierarchy when it comes to user management, which is role-based. This is important with regard to accessibility. Additionally in an era where data is very important, WonderPush gives you complete access to all data of your users.
Criteria For Comparing The 7 Push Notification Services
Comparing the functionality of available services against requirements – including those of users, the business unit, and IT – is a logical starting point to determine which alternative is best in a particular situation.
There are a lot of aspects that need to be looked into when considering a push service notification. On a basic level, aspects like UI design, integration with backend systems, performance, scalability, and functionality are important.
While there are various criteria you can measure a product or service against, we've identified 10 areas (in addition to Price and a G2 review) that the 7 push notification services, which is the focus of this blog post, need to be assessed against.
They are:
Personalization: This is where you can bring in data from external CRMs. Not only the first name but other different variables as well.
Volume Push: Send a high number of push notifications across platforms.
Multivariate Testing: Multivariate testing uses the same core mechanism as A/B testing, but compares a higher number of variables, and reveals more information about how these variables interact with one another.
Intelligent Targeting: Segmentation, location, and event targeting should be baked into the push notification service as well.
Delivery Schedule: Choose certain days and times of the week.
Local Time: Reach all the users at the right time no matter where they are. There should be intelligent timing based on previous campaigns.
In-App Notifications: There should be the ability to grab the full attention of users next time they open the App.
Rich Media Builder: The push notification service should have a builder that can place deep links, URLs, and cards.
This Is The Comparison
To help understand the comparison of information of the 7 push notification services that much easier, we've created a table below.
Service
Push Engage
One Signal
VWOEngage
iZooto
Webpushr
Pushassist
WonderPush
Personalization (Web & Mobile)
Web Only
Web & Mobile
Web & Facebook Messenger
Yes
Web Only
Web Only
Yes
Volume Push
Yes
Yes
Yes
Yes
Yes
Yes
Yes
Multivariate testing
A/B Testing
A/B Testing
Yes
No
No
A/B Testing
A/B Testing
Intelligent Targeting
Yes
Yes
Yes
Yes
Yes
Yes
Yes
Delivery Schedule
Yes
Yes
Yes
Yes
Yes
Yes
Yes
Local Time
Yes
Yes
Yes
Yes
Yes
Yes
Yes
In-App Notifications
Yes
Yes
Yes
Yes
Yes
Yes
Yes
Rich Media Builder
Yes
Yes
Yes
Yes
No
Yes
Yes
Price
$9/[email protected] 1,000 subscribers
From $9/Month
@ $3 per 1,000 push subscribers
Request Pricing
$85/month
for up to 30,000 subscribers
$29 / month
Up to 50K Subscribers
$9
per month starting at 3,500
€3/month
up to 10,000 Monthly Unique Visitors
Star Review From G2
4.7/5
4.7/5
4.4/5
4.5/5
N/A
5/5
N/A
Each of the 7 push notifications services offers a FREE TRIAL. However, the pricing structure of each service differs and is based on the number of subscribers.
Conclusion
So there you have it: 7 push notification services that are truly remarkable in their own way. The aspect of push notifications has a long and storied history. We have expressed which services really stand out. Push notifications have become more intelligent and efficient. They help you to personalize your messages through better segmentation, reduce the cost of customer acquisition by deploying better omnichannel campaigns, and reconnect with your customers using dynamic alerts.
Have you ever worked with push notifications? Tell us your experience or thoughts in the comments.