Considering how far App development has come in the last few years, the question arises: How much does the Uber App cost today compared to 2009? The short answer is that the development cost is far cheaper today. This is largely thanks to the fact that it has been done before.
Uber, as we all know, is a platform that connects drivers and passengers. In order to do this, Uber has set up an App to connect these two parties.
The Uber App cost is more than just the cost of the App. Read on further to discover what other hidden costs are there.
The Final Price isn't just the Uber App Cost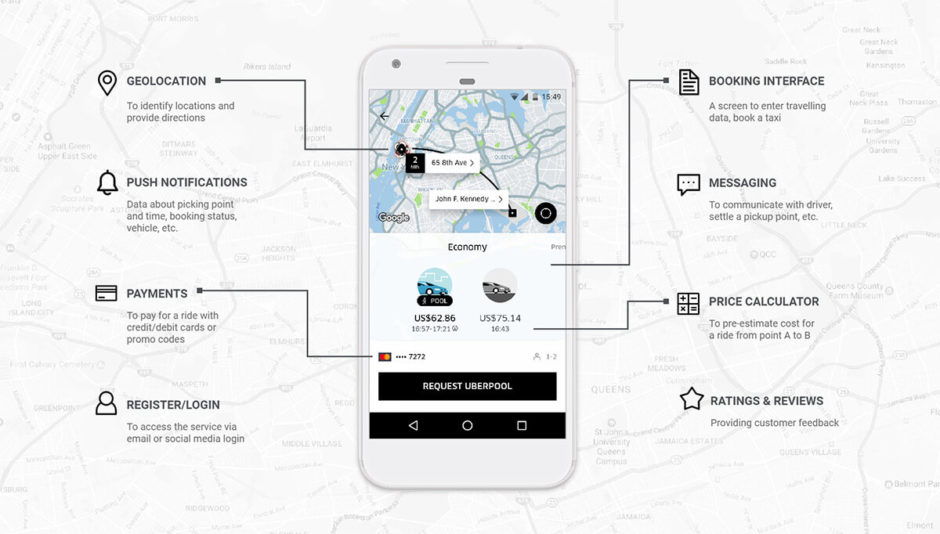 The Uber business model is not exactly innovative in its own right. The concept of connecting a rider with a driver has been around for years. The ease with which you can do this using the Uber App is what makes it unique. While Uber will always be the trendsetter in App based ridesharing services, there are many competitors who have joined the bandwagon, like Lyft.
What makes or breaks a successful App is a proper marketing strategy. Uber's marketing costs (i.e. branding through billboards advertising) are apparent when visiting the cities that Uber operates in. The additional costs of marketing and that of management adds up to the successful deployment of an App.
To put it simply: Uber has redefined travel for many. Uber is definitely on track to becoming a monolith that will change the industry for good. Some of the costs are justified while some are not. Nevertheless, it is an App that has connected millions to millions.
Uber has Monopolised the Australian Market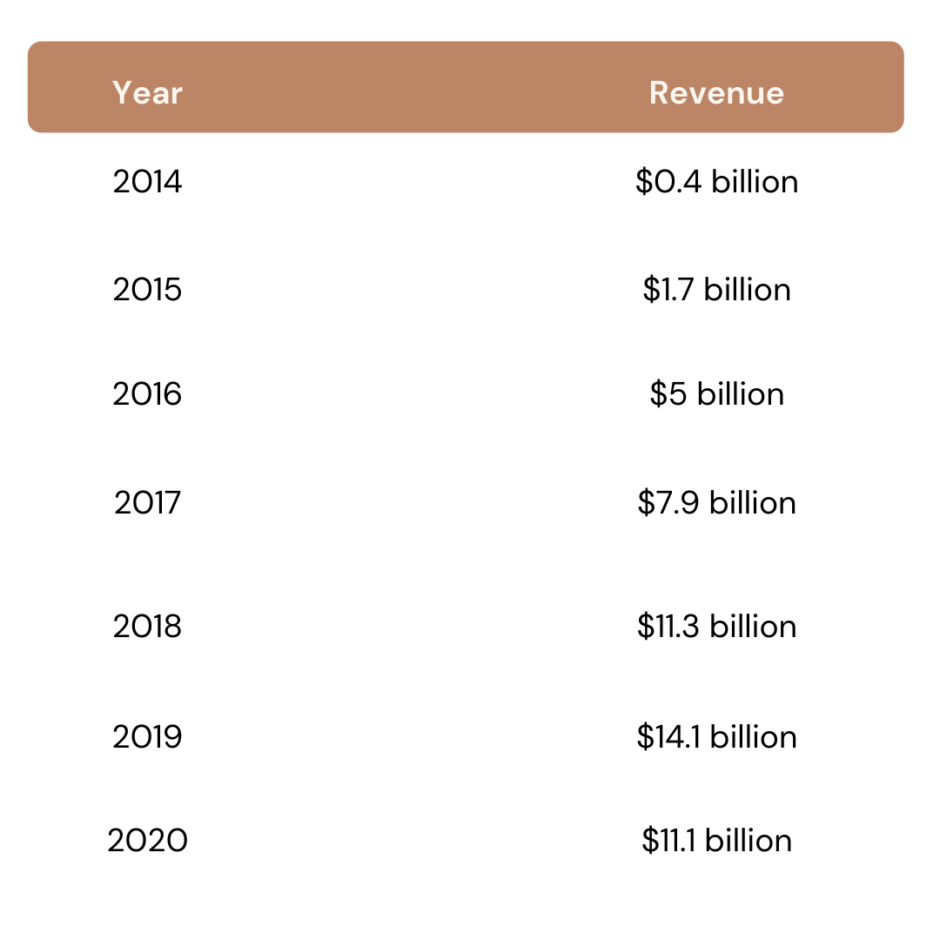 Uber had a visionary mindset by aiming for self-driving cars. It is this visionary mindset that has made it one of the most valuable startups in the world with a revenue of US$ 11.1 billion last year. However, Uber did away with its self-driving unit since the cost-to-benefit ratio or ROI just did not make fiscal sense.
Today, according to Roy Morgan, Uber has serious bragging rights with 4.4 million users in Australia, which is 21.5% of the population. There are more interesting statistics with Australia having 62,000 Uber drivers on the road with the App being popular with 35-49 year olds.
Having a monopoly on the ridesharing market is only possible through a strong and effective platform, or, in other words, a great product. And it is having an intuitive App which provides a great user experience that will keep customers happy.
The Uber App Cost is not What you Think
The total cost of making an App like Uber is not just about developing it. There is the cost of having many teams behind it who are working hard to make it successful. Positions at a company like Uber generally fall into one of a few buckets.
They are as follows:
Small Bucket: The technologists (web developers, programmers, data scientists, and similar roles), who build the back-end product, App, and work on innovation.
Middle Bucket: The marketers and brand strategists. These folks are responsible for promoting the App and communicating its value to consumers.
Top Bucket: The CEO and executive team, who lead the company. This is important to note since Uber is not just an App but a full-run company that has its fair share of costs.
However, let's now focus on the Uber App itself. There are plenty of figures that are thrown around when it comes to App development. These numbers can vary immensely, depending on what sector the App developer is trying to work in and what degree of complexity is required for the App. However, when it comes to developing Apps for smartphones, these numbers have a basis.
Time spent Developing increases the Uber App Cost
Then there are companies that function on a time-specific quotient and charge accordingly. This will vary from company to company, and even based on the developers that are assigned to a specific task. Some companies will be ready to deliver a similar product in a matter of a few weeks, whereas others will take longer. The cost associated with this service will vary depending on the features that are added as well as the experience level of the developers. There are companies that charge an hourly rate.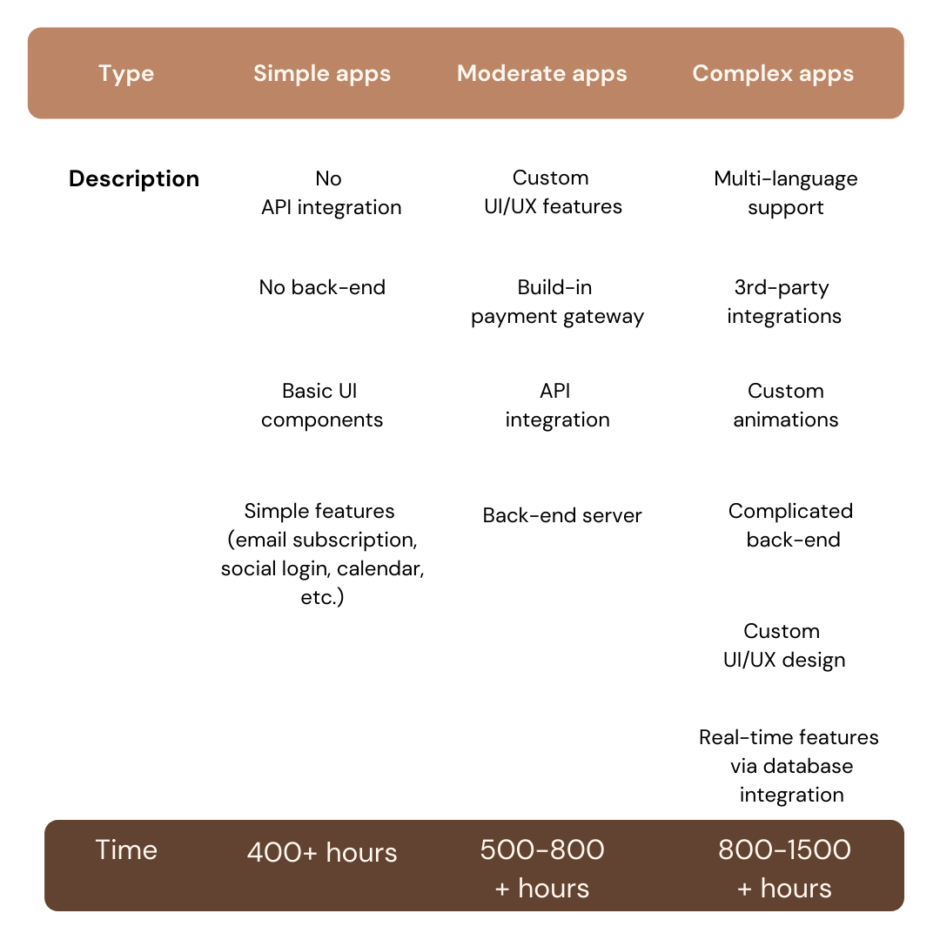 The above table gives an indication of the complexity involved with the type of App that is being created. As indicated, the main factor that affects the development and cost of the App in question is the time spent on it.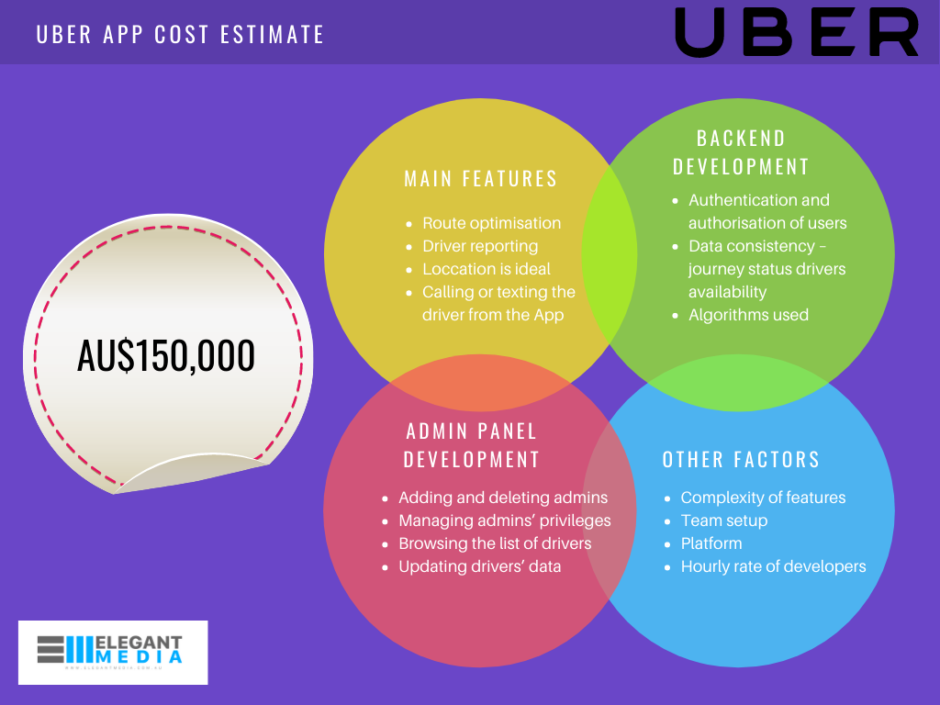 When creating an App like Uber, there are lots of factors that you need to consider. The diagram above gives a brief insight into the 4 main areas that should be considered when creating an Uber-like App.
Besides taking stock of all the main features, backend development, admin panel development, there is also a cost for UI/UX design, and the quality assurance process.
Based on our estimates, the cost of developing an App like Uber today could set you back between AU$120,000 and AU$150,000; this, however, is calculated based on the minimum number of features. Consider this estimate as a starting point for a startup rideshare App where add-on features will quickly contribute to the total cost.
What additional Factors to Consider when Developing an App?
There are plenty of factors that need consideration. The misconception that many people have when creating an App is not considering the other costs and aspects that assist in the successful creation of an App.
Here are a few considerations to take note of:
Time is the main factor that decides the App development cost.
The complexity and difficulty level, user base and market size are all important aspects to consider before finalising a budget.
Who exactly is part of your team? This includes not only the development team but also the design team and the project management team as well.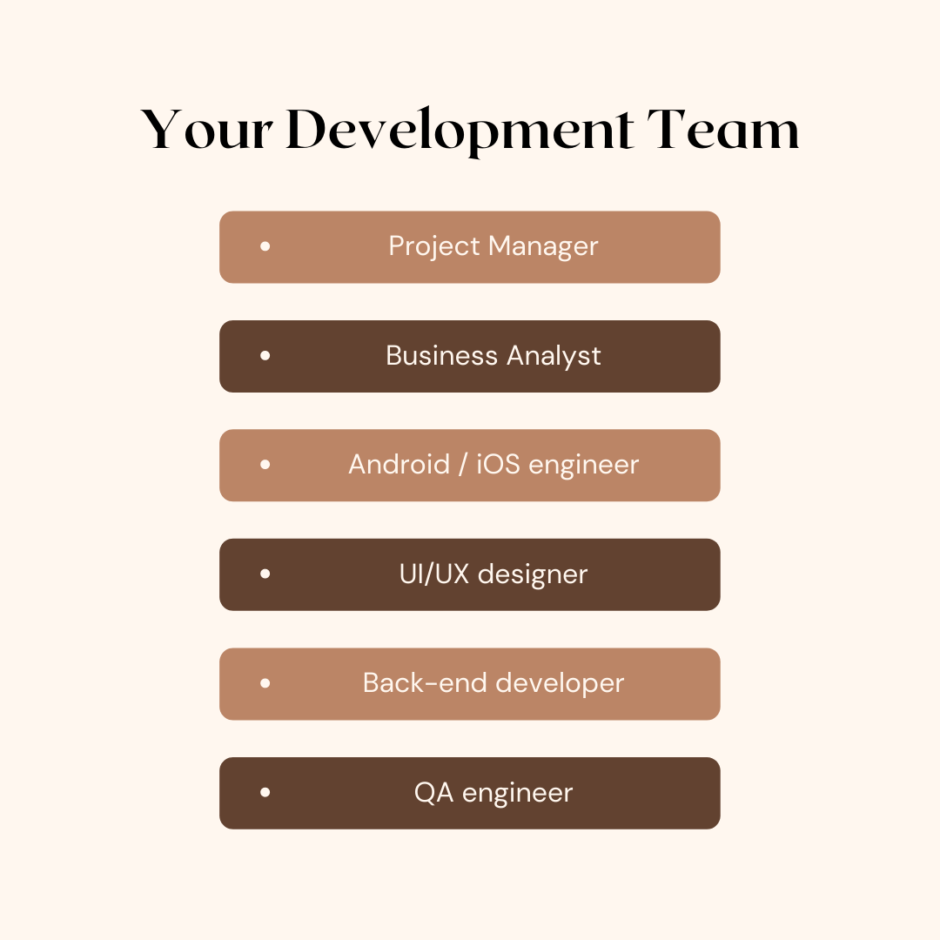 App building has never been easier with the influx of both open source technologies and an easy-to-use machine learning platform. Developers can now leverage a unified development stack that includes the latest versions of Python, Node.js, and other tools as well as data science frameworks like TensorFlow.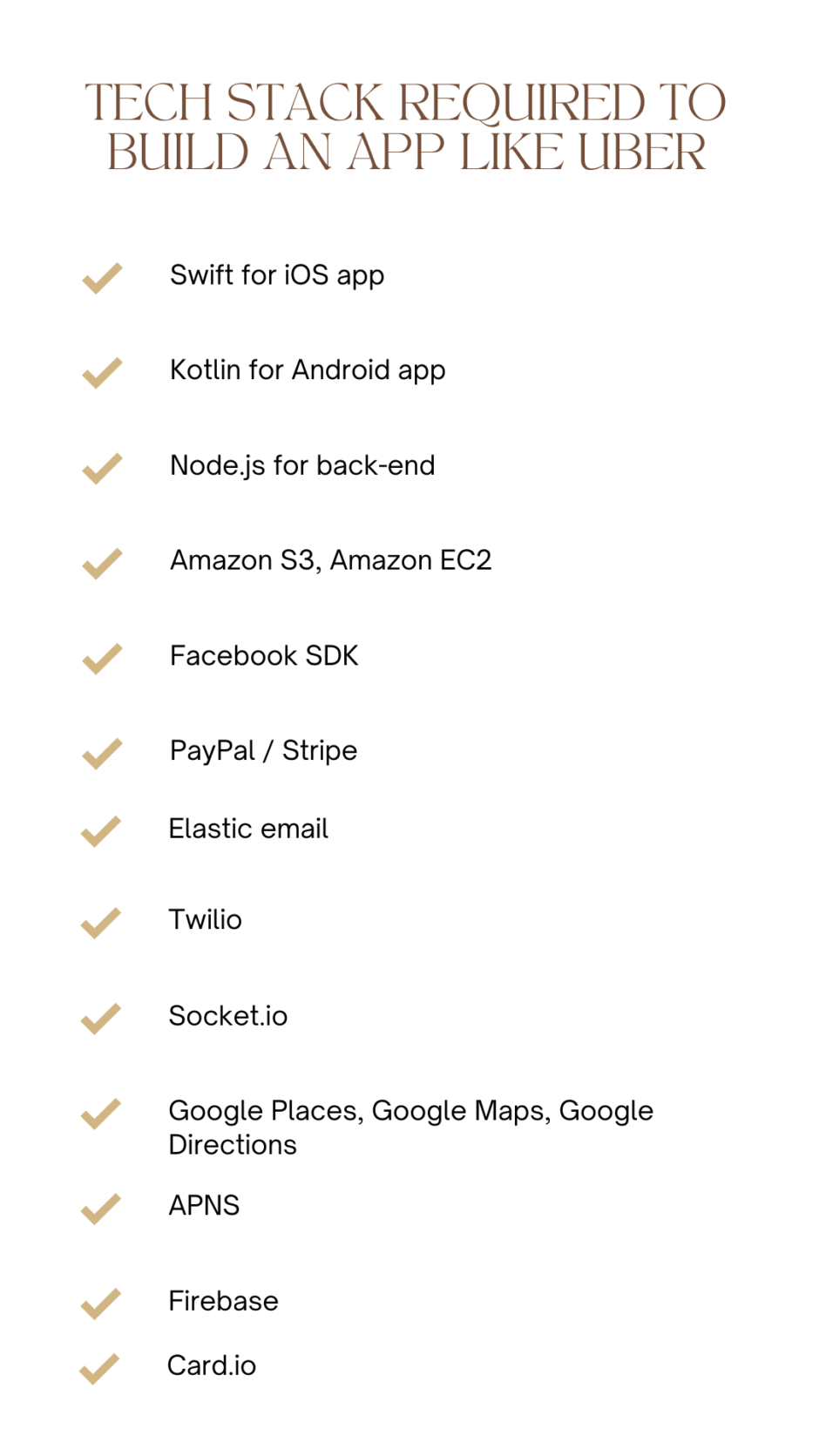 But it all depends on what your requirement is. For an App like Uber, technologies like Swift, Kotlin and Node.js are vital. The company uses these and other technologies to build its native mobile Apps on iOS and Android.
Should You Build an App like Uber in 2022?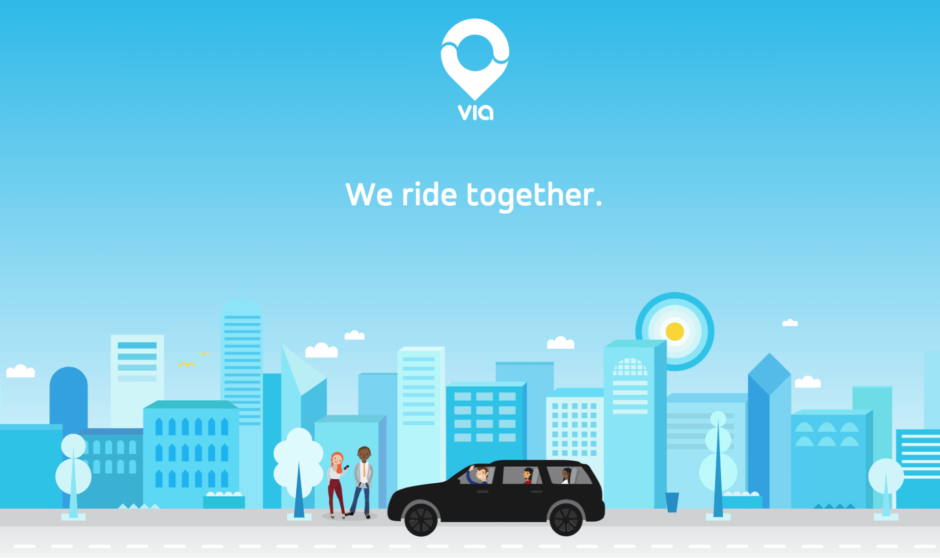 The cost of developing an App is an intricate experience. As estimated, the Uber App cost today would be approximately between AU$120,000 and AU$150,000. There are many factors that go into the creation of an App like Uber. In Australia, Uber is enjoying over 4 million users, and, as far as technological innovation goes, there is always room for more disruption.
So, do we really need another Uber? Well, discovering another niche space and catering to it can be profitable, too. Consider how Via uses a patented logistics engine to look for people heading towards popular places. So the routes are static. You'll be dropped off somewhere along the way.
As entrepreneurs, it always feels right to base decisions on well-grounded research. After all, what's the point of starting a company if you don't do your due diligence? An App is always an extension of your business, and this is what you need to focus on. In order to stand out from the rest is crucial in App development. This all comes down to a great business plan and marketing analysis.