Productivity is the ability to produce something with quality, efficiency, and effectiveness. It's the same concept as getting a lot done in less time or producing high-quality work. Choosing the right productivity Apps is important to help you in your entrepreneurial journey towards success.
As a startup founder in a fast-paced environment, you need the aid of technology to help you with time management, project management, goal tracking, and also safeguarding your mental health. We've compiled a list of innovative Apps below that will help you stay on track, whether your goal is to write a blog, export an image, or work on marketing strategies.
18 Productivity Tools For Startup Founders
There are a million different productivity tools out there. These 18 we think are the most impactful tools available today. These tools, which focus on time management and goal tracking among others, will help you work smarter, not harder.
You'll find that the hours invested using these Apps will inevitably lead to more time and energy for yourself and your family.
Here is an array of productivity tools category-wise that you should try out.
1. Password Saving Productivity Apps
Password saving Apps can save oodles of time. It is one of the most difficult and frustrating tasks for an entrepreneur to have to know their own password. It may be hard to memorise, share with administrators or peers, or remember when necessary. With the help of these Apps, your information will always be safe. Your passwords can be saved in a secure cloud which you can access anytime from any device. Here are three Apps that will make managing your passwords quick and easy!
1. LastPass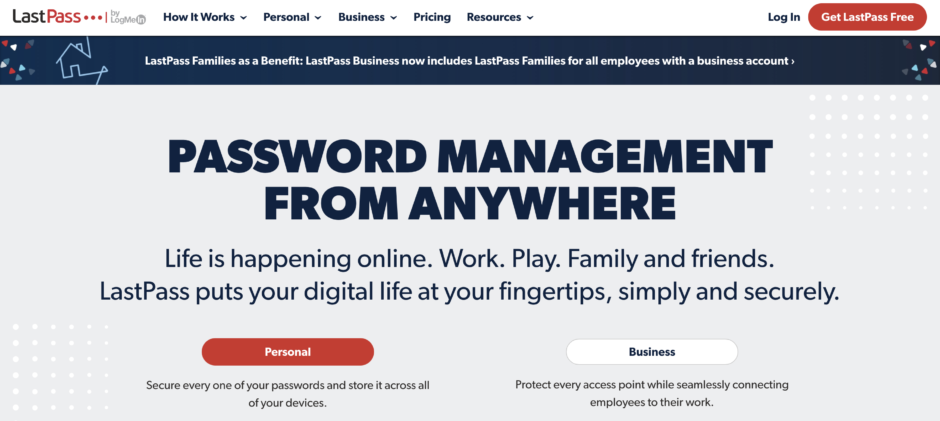 Productivity Apps are everywhere. There are those that help you remember tasks, those that create reminders for you without any effort, and some that even automatically schedule your day for you.
LastPass is a password manager that helps you keep track of your valuable passwords, and protect your online accounts. It's a simple yet essential tool for keeping personal information safe.
With LastPass, all of your passwords are stored in one place on your computer or mobile device, so you'll never have to worry about losing your important details. Plus, they encrypt everything so only you can access it.
But what makes LastPass unique is its functionality: the ability to share certain passwords with trusted friends and colleagues.
2. Dashlane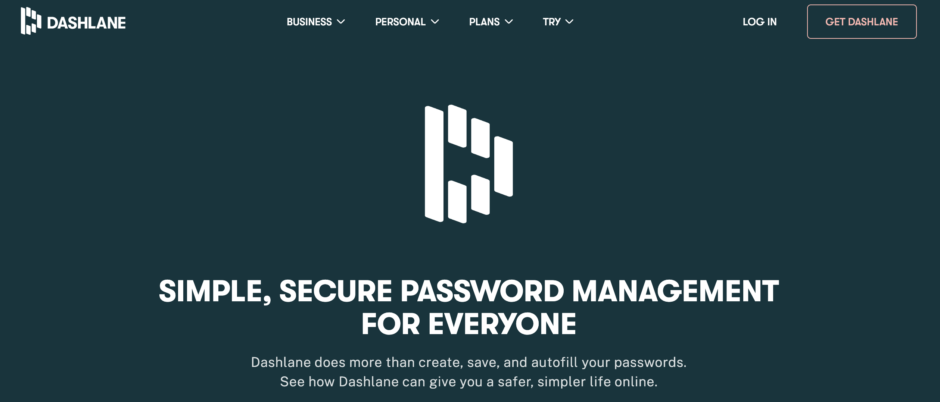 Dashlane is an online password manager that enables you to store, register, and auto-fill passwords for all the sites you use.
It combines security and convenience in order to make managing passwords easier on you.
You can access your account on a desktop computer, laptop, mobile device, or tablet with their web App.
3. RoboForm

RoboForm is an all-in-one Internet application, that provides access to secure information.
You can safely store data such as passwords, account numbers and credit card details on your computer and access them anywhere you are online.
This simple yet powerful tool allows for quick and easy online shopping or work with sensitive information without fear of being hacked or noticing your personal and financial information taken advantage of by potential thieves.
2. Focus Improving Productivity Apps
In the modern world, it's all too easy to get distracted by a flurry of emails or hit roadblocks when trying to complete a task. It seems as if there are hundreds of Apps promising to help us manage our time and keep us focused on achieving our goals.
Entrepreneurs need quite a bit of attention on focusing with all the micro and macro tasks that have to be completed at various times throughout the day. This is especially true for startup founders where every minute counts towards outstanding success or major failure.
The start for entrepreneurs is really tough and exhausting, so nowadays people look for productivity tools to help them make their work as effective as possible and focus on delivering results faster.
While some Apps may offer more features than others, many can still help you become more productive with just a few clicks.
1. Brain.fm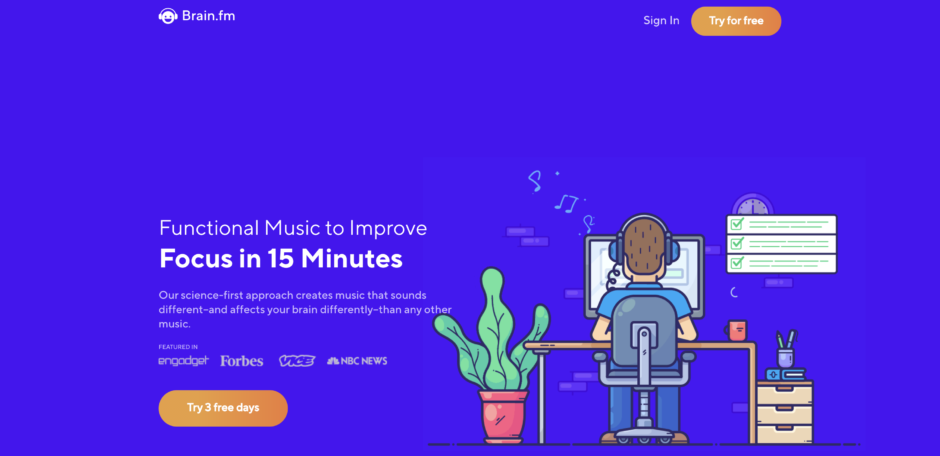 Brain.fm helps you with what you should be doing to make the most of your time.
Music can help you focus. Listening to the right music can have a positive effect on your performance, productivity, and overall health.
Brain.fm uses music created by bots to help you reach your peak physical state. It focuses on relaxation and energy, helping you with what you should be doing to make the most of your time, whether it is at work or at home.
Brain.fm helps the user focus and be more productive with all aspects of their life.
2. Coffitivity

Coffitivity is a free web app that allows you to listen to a calming sound on your computer while working. After all, productivity Apps are all about making it easier to get things done.
The website claims that the sounds aid in creativity, focus, and productivity. You can create the right ambient sounds by mixing together sounds from different categories, which are both relaxing and motivating to listen to at the same time.
3. Noisli

Noisli is a company which has created a website that will help you focus. All you have to do is download the App and open it up on your computer, phone, or tablet.
Noisli starts by playing soothing sounds like rain, waves crashing on the beach, or gently falling snow. You can combine the sounds you like and create your own ideal noise to improve your focus.
3. Website Blocking Productivity Apps
When you want a quick fix for your internet addiction or cyber-time, sometimes the best Apps are those that block all web access! These Apps can take away the temptation for mindless surfing, help you focus on work or school, and provide a feeling of control over your internet habits.
Whether you need to get off of Facebook once in awhile or are looking for comprehensive controls on your devices there is an App that will give it to you.
1. Cold Turkey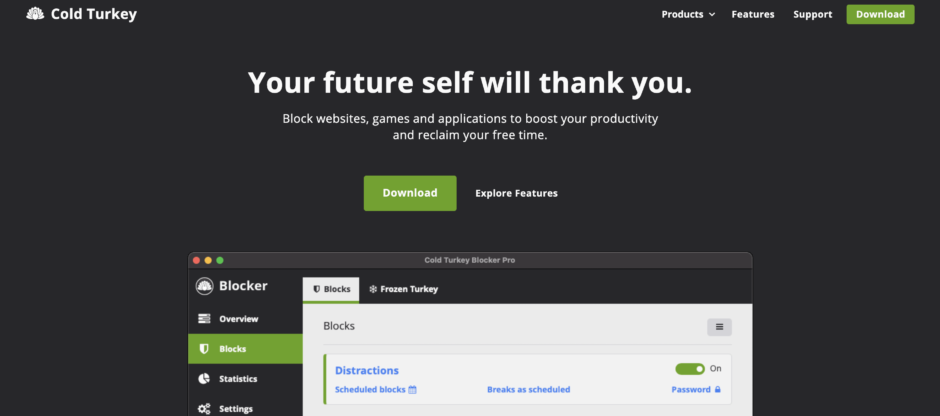 Cold Turkey is a productivity program that allows you to temporarily block distracting websites so you can focus on your work tasks.
The site brags that it has discipline built in and makes it difficult to break to stop the block. Blocking websites is certainly a key towards productivity.
If you have a ton of time on your hands, you can use this product.
2. Freedom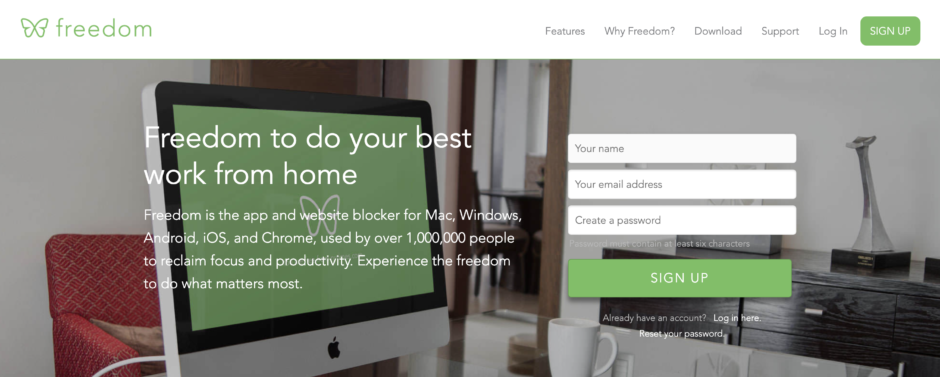 Freedom is a flexible focus App that lets you manage websites and Apps and block them for as long as you want; the period can be customised.
Freedom is great for someone who needs to stay productive and on track, yet still likes to have a little fun. This App is perfect for anyone looking for a way to get more done at work and elsewhere.
It keeps you from getting distracted by your favorite online quiz site and gives you the ability to get things done without being overbearing or ridiculously restrictive.
Freedom also has some great features that help you break your browsing habits, viewing the time you spend on sites, and setting your daily limits on sites.
3. FocusMe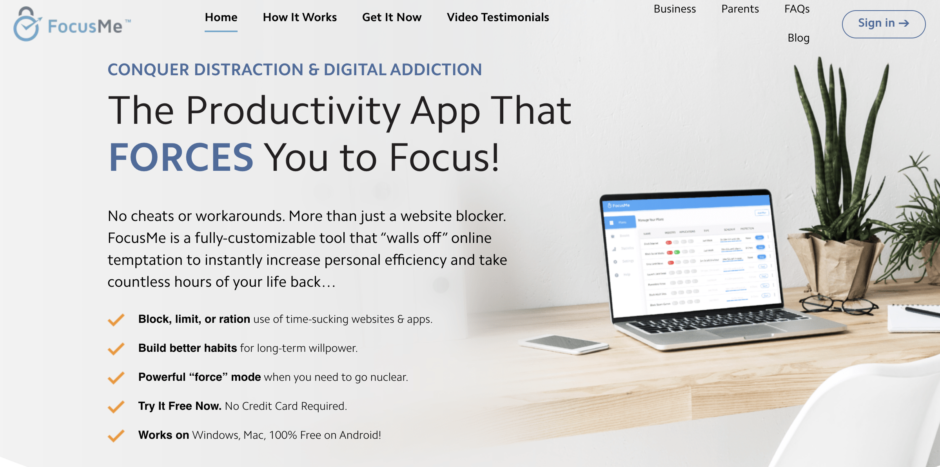 FocusMe is a great website blocker. It removes all the distractions from websites and gives you a clean workspace for your most important tasks.
FocusMe removes distractions from your online life by blocking sites which are known to be addictive or time-wasting – such as Facebook, Reddit, YouTube, Twitter, Google News, and many more – while you're working on what matters most.
4. Goal Tracking Productivity Apps
You really cannot underestimate the importance of goal tracking Apps for a startup. For example, it is now possible to track your goals and see the progress of these goals thanks to a whole range of Apps that provide tools and tips on how to work smarter.
Do you ever find yourself sitting down to focus on tasks, but you can't seem to stay on task? You spend less time working and more time checking social media, surfing the web or indulging in other distractions. If this sounds like you, you're likely suffering from a lack of productivity.
Goal tracking Apps really work. Goal tracking Apps will hold you accountable and give you a way to keep track of your progress throughout the year.
1. Habatica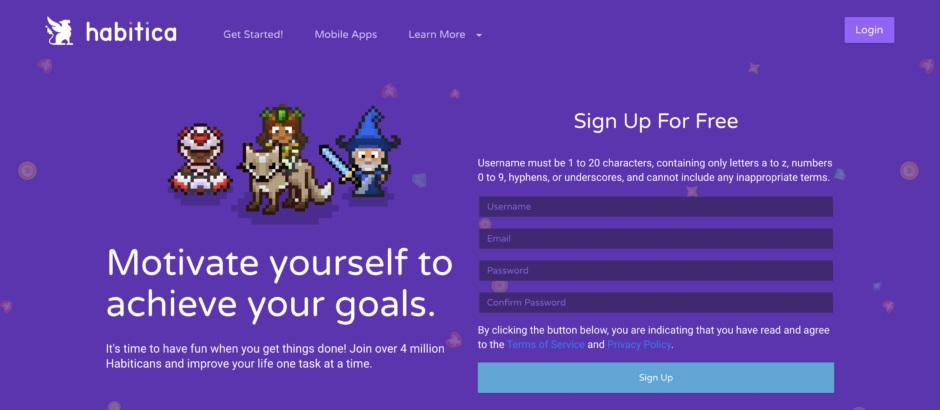 Habitica is a social, virtual environment that helps you to set and achieve your goals.
It provides players with personalized gameplay that motivates them to work towards their best selves while challenging them to reach new levels of productivity at work and school.
There are twelve different types of games you can participate in; each of which has its own unique set of objectives and serves a specific purpose in the lives of its players.
2. ClickUp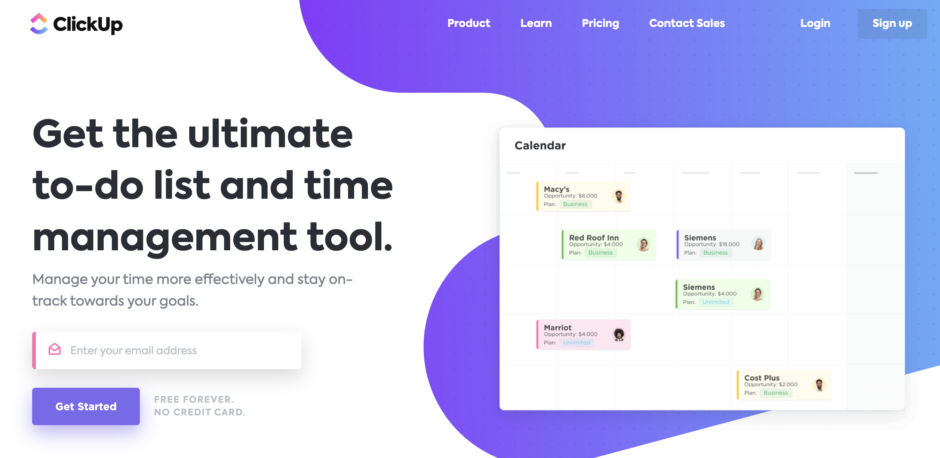 ClickUp is a web and mobile application, made specifically for project management.
It allows you to manage your entire project from start to finish in one centralized location, without having to worry about spreadsheets or emailing attachments back and forth.
The interface is simple and intuitive. ClickUp will help you track your project's progress so that everyone can see where they stand at any time.
You won't have to worry about who did what or when things are supposed to be completed. You can easily organise tasks into projects or phases and track their progress and schedule with ease, without worrying about losing anything in the process.
3. Weekdone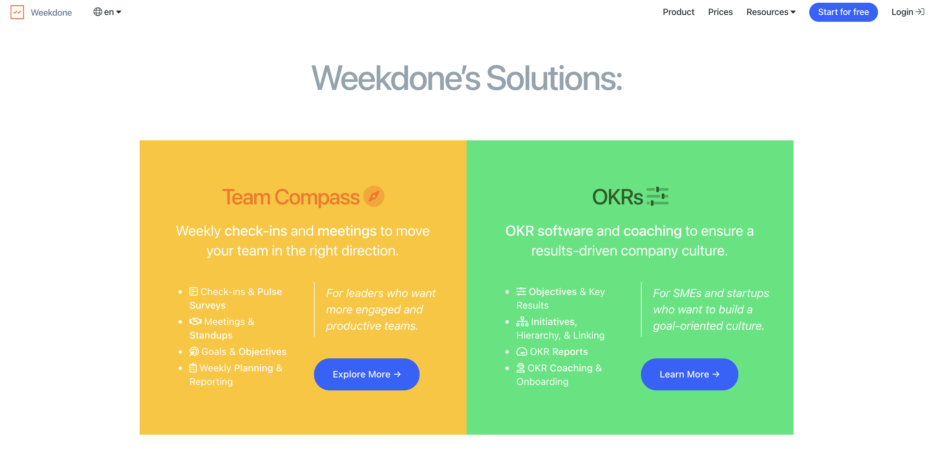 Weekdone is a fantastic App. It is a tool intended for helping people keep track of their tasks and make progress on them every day. Its free version for iOS devices has a few limitations, but there are three different paid levels which offer advanced functionality and more features.
Weekdone is an App that's designed to help people do better at work. It does this by providing you with the opportunity to develop habits that make it easier to achieve your goals, take actionable steps towards achieving them in a timely manner, and improve upon current ones.
5. Scheduling Productivity Apps
Startup founders need to get organized, and that is what scheduling productivity Apps are all about. With long work hours, emails popping up at all times of the day, and ever-changing workloads, it can be really tough to carve out time for yourself and still manage your responsibilities.
Getting the right App that helps you schedule your most important tasks is vital. There are so many Apps on the market. It helps you to organise and schedule your everyday agenda. Quickly creating a new task or adding an existing one is simple.
With quick feedback and reports, it is easy to know which tasks are completed. Working with a scheduling App allows for the highest level of effectiveness while still maintaining personal privacy.
1. Due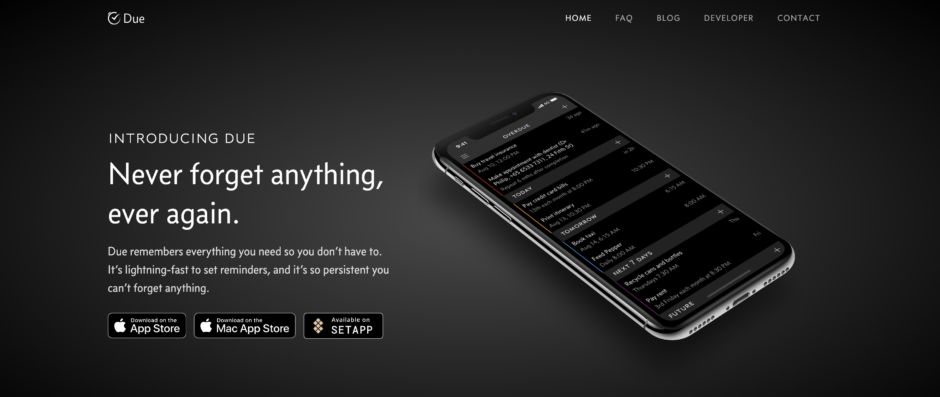 Due is a task scheduling App that repeatedly reminds you of items you must get done until you act on them.
The App, which was created to be intuitive as a way to help people think through their tasks and avoid procrastination, uses email, text messages or push notifications to pester you until an item is completed.
It also allows for the creation of 'next actions' – steps toward future tasks in process. To-do lists and checklists are important tools for every person who wants to get stuff done.
2. Calendly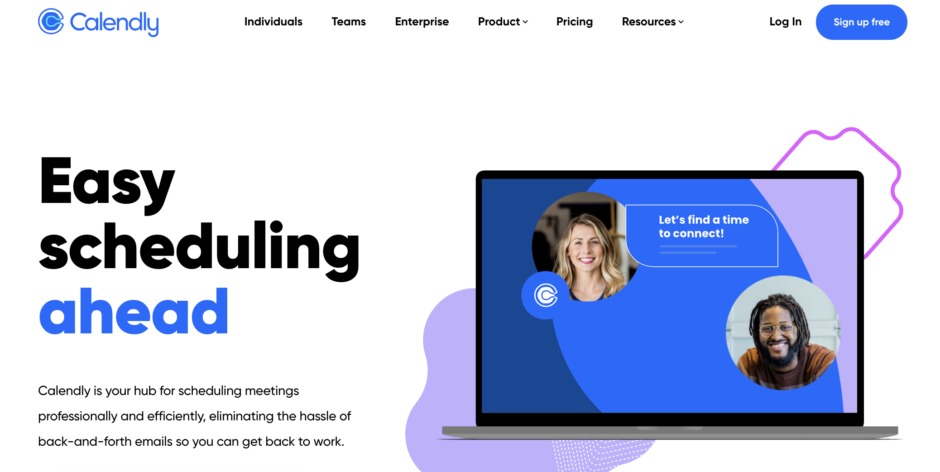 Calendly is a tool that saves businesses time and money, and gives their clients more flexibility. It's a service for scheduling meetings quickly and easily.
You can configure your availability hours from 7AM-7PM, any day of the week, and specify days for holidays or other days you request off.
As your appointment schedule fills up, Calendly will automatically send an email to attendees with a link to book time slots directly in your calendar.
3. Baluu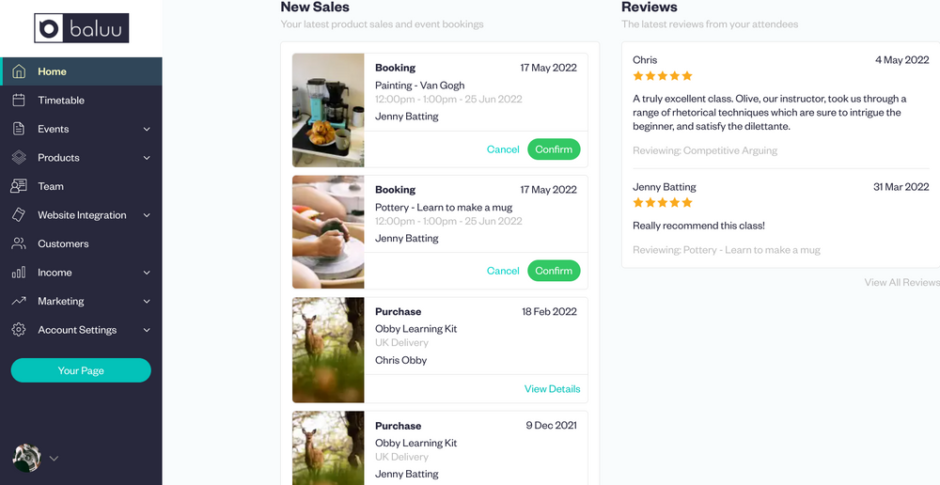 Baluu is an all-in-one booking software. As well as managing your bookings, Baluu gives businesses access to valuable appointment scheduling tools.
Easily share your real-time availability with clients, send automated reminders and keep track of your bookings with Baluu. Sync with your Google calendar to prevent double-bookings and create an appointment booking experience which showcases your brand.
After you have signed up with Baluu, you will have access to the Baluu dashboard. Within the dashboard, you can track your income over time, assign your team to upcoming events, set up discount codes, collect reviews and a whole lot more.
6. Time Tracking Productivity Apps
If you want to manage your time and maximise productivity, you need to have a good understanding of how you spend your time. That's why it can be so difficult for people who don't know where they are going with their day.
Every minute of the day is important, so making sure that people are on top of their tasks is essential. Time tracking Apps help make this possible by letting users know where they spend their time and what their progress looks like on a daily basis — every detail matters.
Time is of the essence when it comes to startups and entrepreneurs. They know that the person who utilises his time better than the next guy stands a greater chance at succeeding.
Time tracking Apps (or time tracking software) have many important functions, which include: making it very easy to break down what you've been doing with your time. It is easy to see where you might have slipped up on something when you have this data available for a quick glance (or in-depth analysis).
1. DeskTime

Desk Time is a productivity App that tracks time for both teams and freelancers. There are a number of features that make this App the ideal tool for increasing productivity.
For example, Desk Time includes a team chat feature and automatic reminders, both of which are helpful for staying organized and focused on work.
Along with these tools, you can set your start and end times so that you never forget to take breaks throughout the day.
2. Pomofocus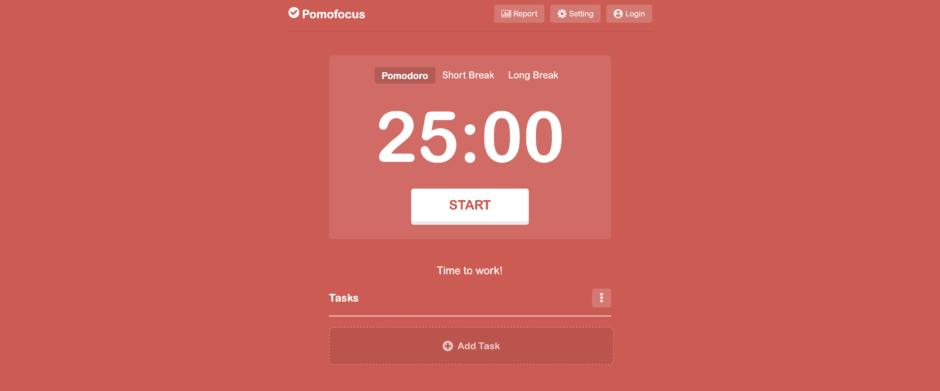 Pomofocus can be regarded as a productivity App, and is based on the Pomodoro Technique, which is a time-management technique that uses a timer with 25 minutes of work followed by 5 minutes of break, but it's more than that.
It is like your personal coach that takes the stress of the day and helps you manage it better. You can choose which subjects are important to you and track them in a calendar; if one pops up, Pomofocus reminds you of how much time you have left for this task and what is next on your list if the deadline has been reached.
3. Toggl

Toggl is a tool for entrepreneurs, freelancers and remote workers to track time accurately, improve productivity and reach their goals.
Toggl allows you to see how much time you spend on a particular task by splitting it into the amount of time spent on each part of the task. You can also use Toggl for project management, create custom reports and tasks, plan your day or week ahead with your team.
Toggl is user-friendly and works on all desktop and mobile devices. You can share tasks with your team, clients, or look at which tasks are the most time consuming.
You can create a project for each task you want to track like a project with different chapters.
If you're working on multiple tasks, you can create a project for each task too if needed. You can use Toggl for daily time tracking, weekly time tracking or monthly time tracking.
There You Have It!
So, there you have it: a look at some of the best productivity tools that can help you out in 2023.
The information in this post is tailored for startup founders and entrepreneurs, but these tools are also perfect for writers, artists, software developers, and more.
The important thing to remember here is that success comes from approaching productivity holistically.
In other words, you need to identify what your priorities are as a business owner and map out a plan accordingly.