Artificial Intelligence (AI) is a branch of computer science concerned with making intelligent machines, especially intelligent computer programs. AI may have started as a novel idea, but it is now widely used in a variety of industries. We also see the importance of AI and how it is used in smartphones.
One of the main reasons AI is widely used is because of a high degree of data that needs to be sifted through. In 2021, mobile penetration across the globe has dramatically increased, and we see the importance of the use of AI on business mobile Apps to offer a better user experience, drive customer loyalty, and increase profits.
This article will focus on how AI is changing business, and how to use artificial intelligence on business mobile Apps.
1. The Types of Artificial Intelligence (AI)
Before we delve into the aspect of how to use AI on business mobile Apps, let's look at the types of AI that are present.
AI can be thought of as consisting of 3 types of "thinking":
'Narrow AI' focuses on solving specific problems or obtaining specific knowledge or skills.
'General AI' refers to the ability for a machine to perform any task that a human being is capable of (i.e. logical thinking).
'Artificial Super Intelligence' refers to a hypothetical agent that possesses intelligence that surpasses the abilities of any human being.
AI is a type of intelligence that can be produced by computers. Having said that, AI in the development industry is sometimes called Machine Learning Algorithm (MLA), which is where business algorithms are trained on data and then used autonomously for predictive analytics purposes in an enterprise environment.
This limited version of AI is based on the science of logic and mathematical reasoning. Its purpose is to create machines that can think like humans. There are numerous attempts to build a machine with this purpose in mind all over our scientific world today.
However, the AI that we are dealing with when it comes to business mobile Apps is General AI. With this in mind, let's segue to a more general narrative of how AI is changing the face of business.
2. How Artificial Intelligence (AI) Is Changing Business
Robotics, automation, and AI have been with us for quite some time. But never before has AI become so accessible and important as it is today. With the ever-expanding advances in AI and computing power from our smartphones, where the Internet trumps everything else, businesses are changing at an extraordinary rate, and are embracing AI for the better.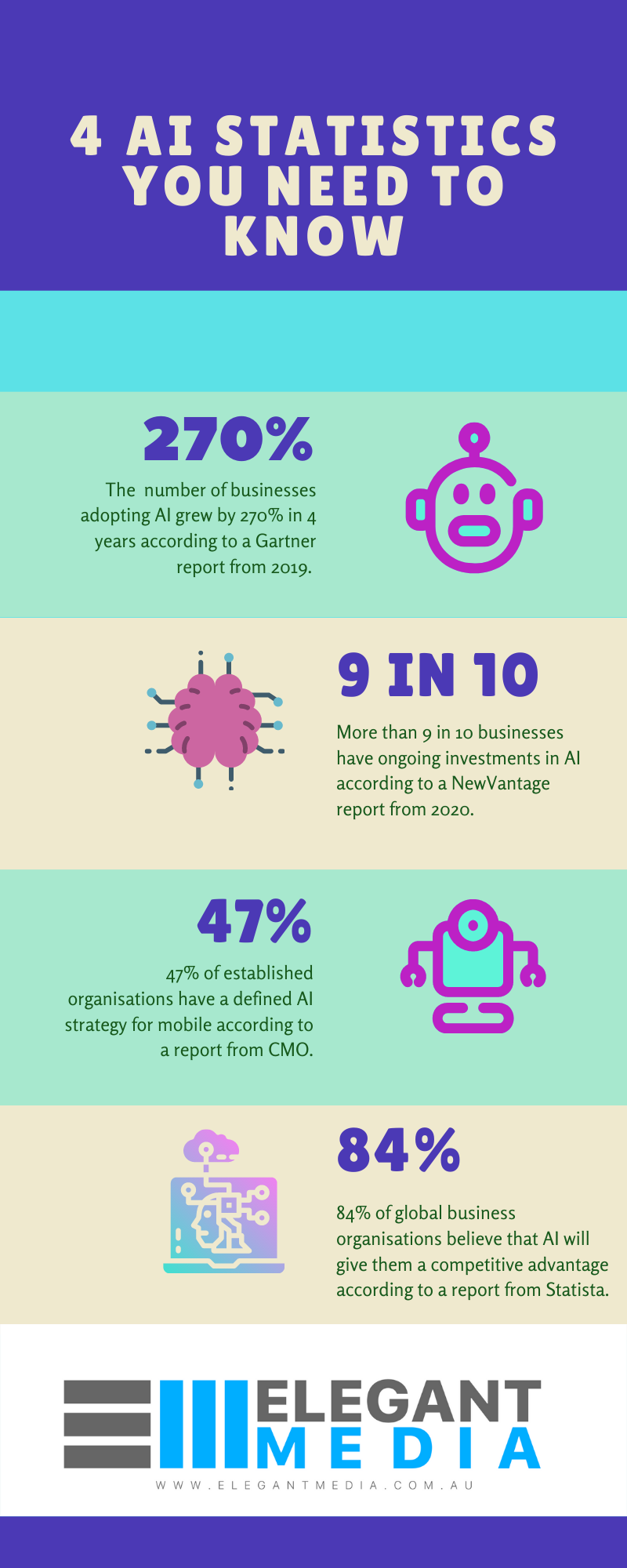 AI is moving to the forefront of everyday business, and, as per the infographic above, more and more businesses are moving towards the use of AI as are mobile Apps.
Here are a few interesting ways AI is helping the world of business embrace a more streamlined and seamless approach:
1. Automation of Repetitive Tasks
Automation, such as the use of bots and machine learning, is helping businesses and their workers to focus on higher-level tasks. While there are still many jobs that are valuable in providing a human touch, the ability to automate these lower-level tasks, like, for instance, answering the phone, will cut down on costs.
2. Streamlining Customer Services
AI tools are being used to improve customer service. In-pathway chatbots are giving customers the ability to interact with a bot instead of a human service rep. The interaction is still within the chat, but it does not require an attendant to answer questions or address issues. This greatly enhances customer service. AI can also be used to better understand customers. If you were to consider the banking industry, data analytics can provide banks with identifying information about their customers, such as which products they prefer or who they are likely to refer new customers to.
3. Improving Human Capabilities
AI is also helping workers focus on higher-level tasks and even improving their capabilities. Businesses, including financial institutions, have found that offering AI as a service allows them to make use of the latest AI algorithms and technologies without needing to invest in the development and implementation of the technology themselves. AI and machine learning is helping businesses improve their day-to-day financial management and operations. A good example of this is using a forecasting tool in an apparel company to predict the best months to sell t-shirts.
4. Improving Security
AI is also being used to improve security. Many AI-enabled technologies are designed to fight the problem of cybercrime, providing businesses with an extra layer of protection and security against potential threats. This can also help security personnel better monitor the devices on their network, whether that be mobile phones or computers. One example is Windows Defender, which uses the power of AI to offer bullet-proof protection.
5. Reduction of Cost
As AI becomes more common, it will become less expensive. This is helping many businesses to reduce their costs and offset expenses, something all businesses could benefit from. AI is also helping support new technologies that can help reduce costs, such as cloud-based services that provide utility computing and storage capabilities. The best example of this are collaborative tools like Dropbox or Google Drive for companies.
3. How Artificial Intelligence (AI) Is Used on Business Mobile Apps
So, how exactly is AI used in business mobile App? The answer to that question is quite simplistic. Machine learning algorithms work just like humans, sifting through countless data sets and adjusting their decisions based on the results. These algorithms are becoming more sophisticated by the day and can help us make predictions about customer behavior, refine our marketing campaigns, design new products, define user interaction with a website or App layout and much more.
These are the ways artificial intelligence works on business mobile Apps.
1. AI is Used for Predicting App Usage
One of the most popular uses of AI is to predict App usage. Machine learning algorithms don't just create a list of users that have already purchased an App, but predict the size of their audience, how engaged they are with the App, their level of interest in updates and much more. Analysts often make predictions based on previous trends to help inform business decisions. Some examples of Apps that absolutely can not do without accurate AI App usage predictions are creators of mobile App games or dating Apps.
2. AI is Used for Optimising User Experience
AI can help with App user experience by providing more personalisation. Personalised experiences for the customer means that there is a higher generation of better user engagement and increased revenue. For example, if you are the brains behind an e-commerce App, then you need to have your UI and UX on point to provide a better customer experience.
3. AI is Used for Predicting Business Outcomes
More and more App developers are using simple machine learning algorithms to predict business outcomes. This includes the performance of a website, the popularity of a product or a service, and more. Machine learning algorithms can also be used to predict the probability of a sale being made, and depending on the results, marketing strategies can be adjusted in real time. For example, predictive analytics can be used to predict home prices in a given location.
4. AI is Used for Analysing Data
Analyzing data is another way AI can be used in mobile Apps. Machine learning algorithms are being used to analyze and understand massive amounts of data by using natural language processing to extract information from text and speech. This helps businesses with their decision making, as they have access to a great deal of data at the tip of their fingers. A great example of this is Google Assistant or Siri.
5. AI is Used for Managing App Performance
Making sure a business mobile App is constantly performing at its peak performance is essential to retaining and engaging users. Machine learning algorithms are used to monitor and analyse App performance, able to identify the issues that are slowing it down. These algorithms also check for bugs in the code that could be causing problems in the App. Once again, this all ties into the aspect of offering a great user experience.
6. AI is Used for Tracking in-app Behaviour
Businesses are using AI to track in-App behaviour. Not only does it help in analysing and understanding user behaviour, but it is also used to predict future behaviour. This helps businesses optimise the user experience based on a specific activity, such as an online purchase. It can also be used to forecast future sales and plan marketing campaigns ahead of time.
Of course, while there may be more uses, the above 6 are the main ways in which AI is used in business mobile Apps.
4. Here's How Artificial Intelligence On Business Mobile Apps Will Improve In Future
The smartphone has already become an integral part of the modern office. Businesses often use cloud based phone systems and Apps to stay connected to their clients and colleagues, and so they're constantly in search of ways to make them easier for employees to use. With AI on the horizon, Apps could soon provide a more engaging experience.
Enterprise seems to be entering a new era ruled by data. What was once the realm of science fiction, AI in business intelligence is evolving into everyday business as we know it. The fact is, AI can make company Apps more powerful and engaging than ever. The following part is an extension of how artificial intelligence on business mobile Apps is used in future.
1. Holographic Displays on Offer
Smartphone Apps can offer the same feature to users. Holographic displays are a fascinating technology that we've only seen hints of so far, but it's gained traction in the last few years with Google Glass. In theory, you could have a holographic display on your phone or laptop and see images and text exactly as if they were projected directly from a display.
2. Smartphones will be Self-aware
Future smartphones will be able to analyse your surroundings and offer the best possible services for your environment. For instance, if you're in a restaurant, the phone might show you all the menu items that are available for vegan or gluten-free diets as per your preferences.
3. Gamification
Smartphone Apps will gamify your life. Gamification is already here, but will drastically improve. Even the most mundane aspects of your life can be made more fun with these clever, easy-to-use Apps. From observing your frame of mind to deploying messages on social media, from competing with your friends, there will be an App for that.
4. Real time Customer Service
Companies will be able to rely on a single, unified platform that can connect workers to the information they need. This way, the mobile App will function like a command centre for all business operations. It will also allow workers to handle customer service promptly.
5. Powerful app Authentication
Using AI for authentication is a wise move because it is capable of providing higher levels of security without compromising the user experience. For example, users will be able to unlock an App via voice recognition on their smartphone instead of using a fingerprint.
6. Chatbots will order Food and Book Travel
AI will also be able to drive customer service through chatbots. Businesses can use these bots to communicate with Internet users whenever they want. This will allow the App to function like a virtual assistant that takes care of routine and repetitive tasks performed by the business.
5. Our Conclusion
AI is already helping businesses improve their efficiency and profitability. This is crucial for organisations that want to stay competitive and future-proof. AI will create a mark in the future, and we have show how artificial intelligence on business mobile apps is used. It is something that you cannot ignore. Supercharge your business Apps today. The enterprise seems to be entering a new era ruled by data. What was once the realm of science fiction, AI in business intelligence is evolving into everyday business as we know it.