So, what exactly is Airtasker? It is simply an App that helps connect both people and business in one seamless and intuitive platform. In this blog post, we will look at the Airtasker App development cost.
Airtasker has become a runaway success thanks to doing away with the hassle and inconvenience of connecting experts and customers.
Based on our reckoning, there are over 70 features that require development. However at this particular juncture we will only focus on the main features.
The Development Team & Tech Stack
Besides requiring a competent team to start developing an App like Airtasker, there is also the need for the right Tech Stack as well.
To make this blog post easier to scan, we created a simple infographic showcasing both requirements.
The Development Team and the Tech Stack are just one aspect. These teams need to come up with a host of features, which are what makes Airtasker such a superlative platform.
The Key Features
The main features are based on 3 different aspects of the App.
They are: the Task Poster App, Task Initiator App and the Admin App.
Once again, we've created 3 different infographics to showcase this.
Task Poster App
This is where the poster posts a task which is pushed to all providers who match the requirements.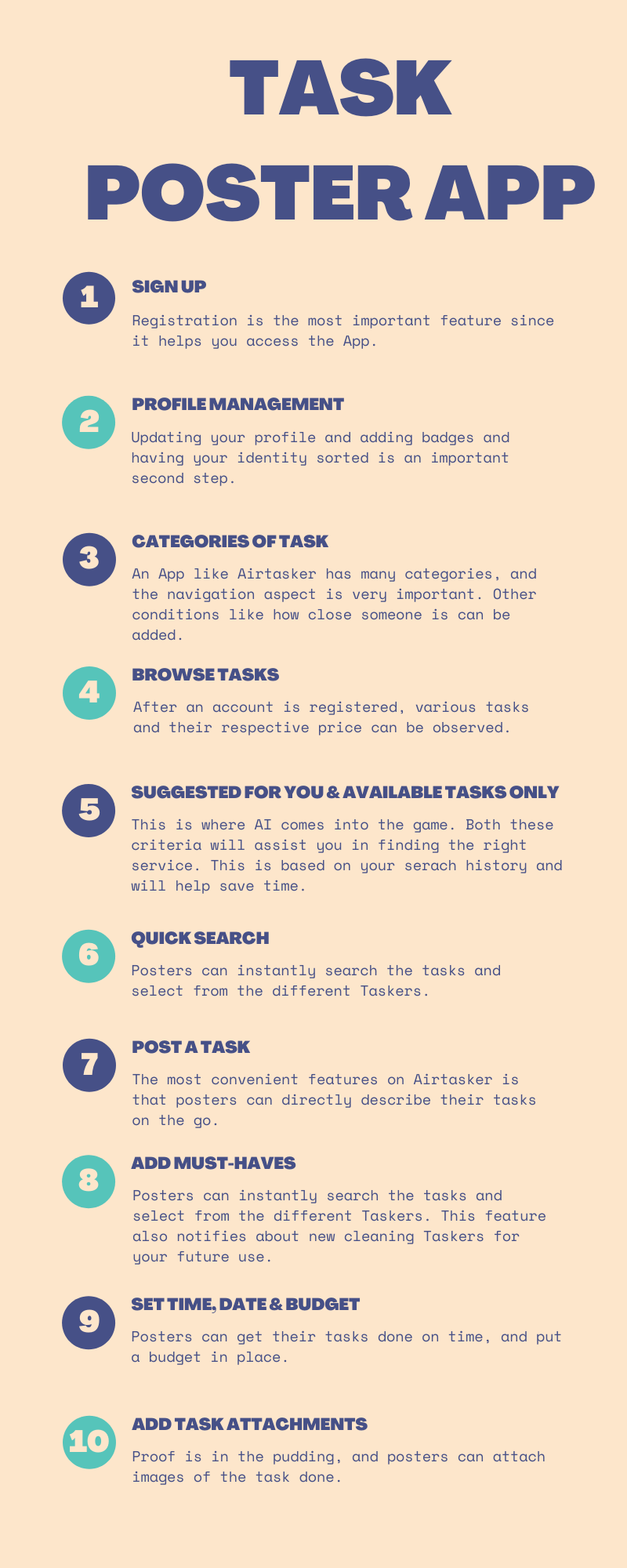 Now we move onto the Task Initiator App.
Task Initiator App
The Task Initiator App is without a doubt one of the most important aspects of this application. Consider this almost as a middleman when compared to all three Apps.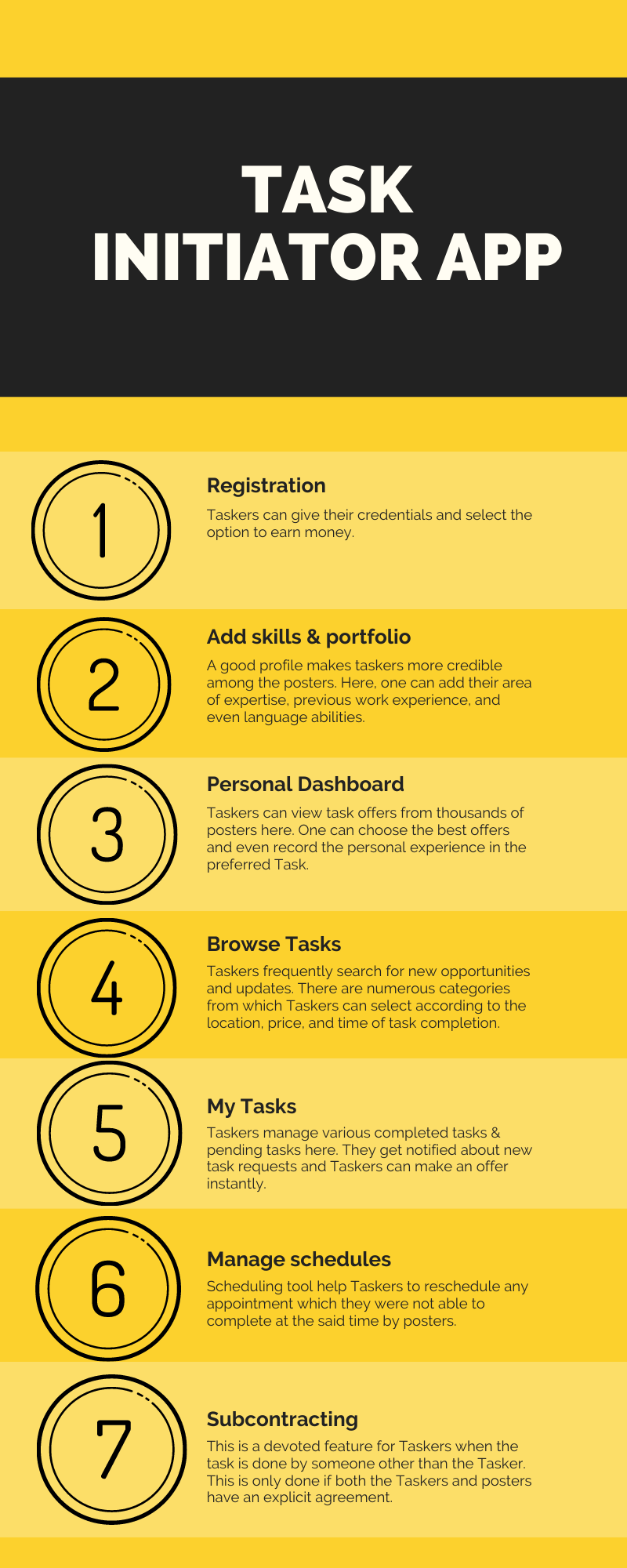 Admin App
The Admin part of the App is all about helping in managing the services of the Taskers and Posters.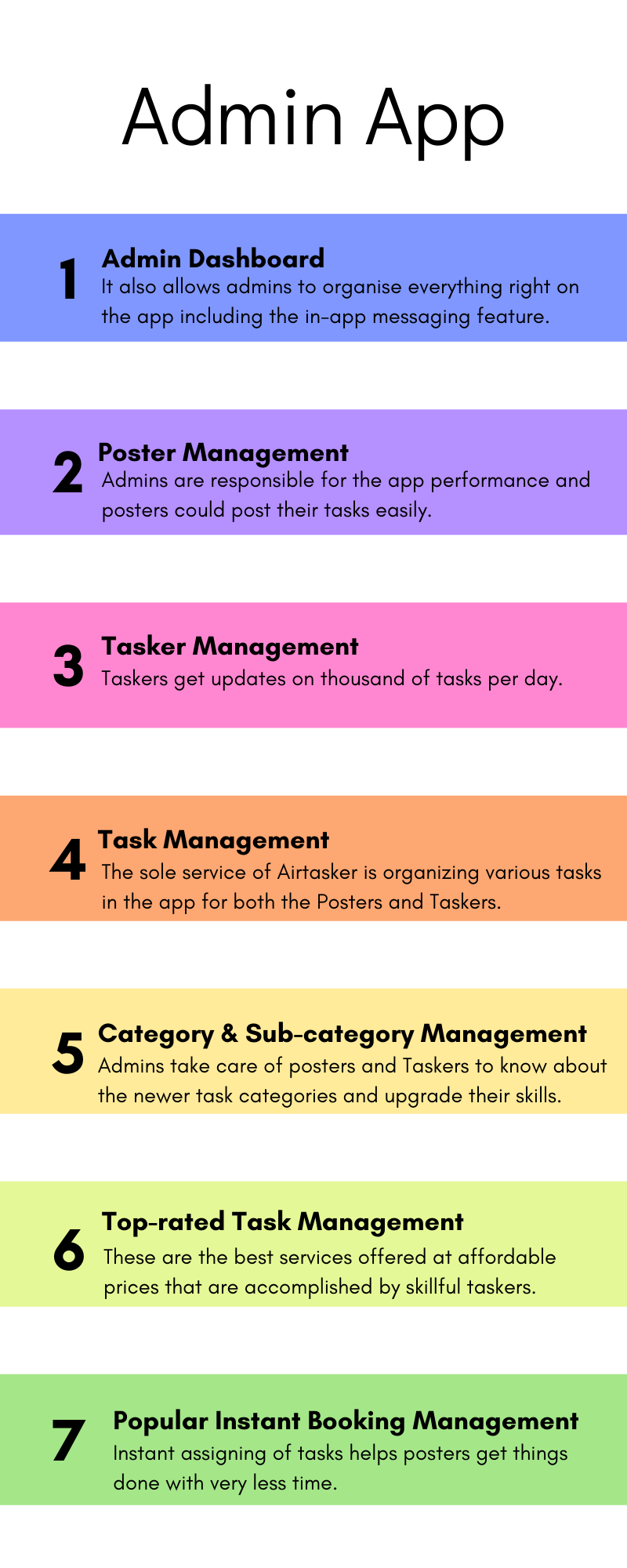 What Are The Development Costs?
We wrote a rather extensive blog post on how much the Uber App would cost to develop.
The cost of developing an App like Airtasker will follow the same format.
What is important to remember at this juncture is that most Apps have been done before.
And the cost of doing a similar App will be different and, in fact, cheaper as well. The reason for this is that the initial proof of concept has been done before.
While the costs of creating an App varies, it is best that you consider building an MVP to understand how you can initiate your journey towards making your App public and commercially viable.
So how much would something similar to Airtasker cost? The basic App would set you back in excess of AUD$ 150,000 at least.
This figure is based on the number of hours put in by the development team, the resources allocated and the basic features required.
This figure will certainly increase drastically based on the number of features included and the array of interactions involved.
Conclusion
As we have showcased, there are many features that an App like Airtasker will require and it is based on these features that the cost can be determined accordingly.
All said and done, remember that an App does not have to have an exorbitant price tag. All that is required is having the right business plan and MVP to make it a reality.