Making Connections Fast
It can be extremely time-consuming and frustrating for both apprentices and businesses to find the right job or employee. The Keen2Work (K2W) team, being experts in their industry, saw a massive gap in the market that needed to be filled. They found that too many people were struggling to find a job or find the right apprentice fast.
So, the K2W Team decided to do something about it and thought of an App idea that connects job seekers and employers on one easy-to-use platform. Using their concept and our team's experience of developing 1000+ Apps, we worked together to innovate and bring their App idea to life.
With 300+ users in the first month of its launching, and attracting government funding, the K2W App is already transforming the Australian workforce sector.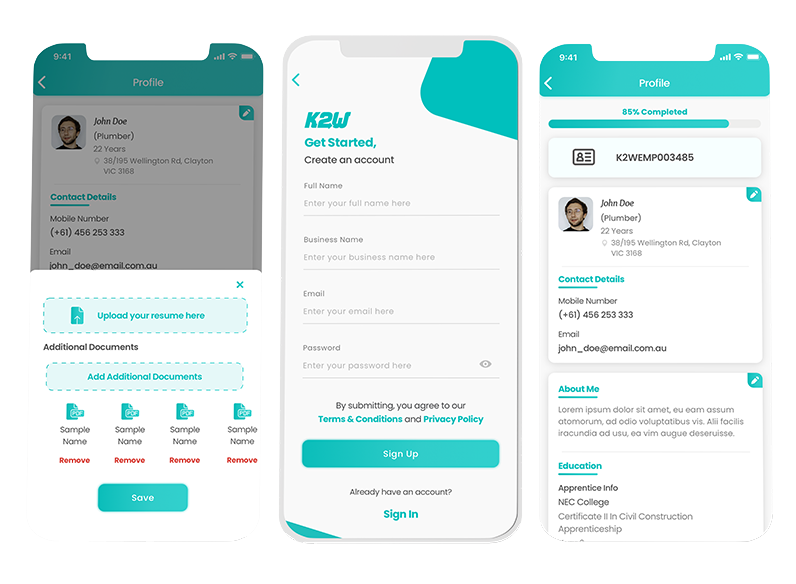 Technology
The intuitive App matches employers and apprentices seamlessly. Employers no longer have to sort through hundreds of resumes to find their perfect apprentice. Apprentices no longer have to hand out their resumes or send countless of them online. With easy filters, matching of profiles and messaging and contact options, the K2W App has many features while keeping everything super simplistic.
The K2W App uses a Google API third-party integration to provide users with an interactive Live Map feature to visually see what jobs are available in preferred locations. Plus, our team utilised Flutter and PHP to develop K2W.
Working Together
Elegant Media worked closely with the K2W team to ensure the App was everything they had envisioned. The K2W team valued quality, ease of use and filling an important gap in the market. With these values always at the forefront of the project, together we created an App that does everything that the clients wanted and more. At Elegant Media, we are on a path to transforming Australia, and the K2W App is one of those proud moments where we got to do just that.