There are several different coding languages and different platforms that are used for Mobile App development, one of them being the Flutter App development framework. Flutter, is a cross-platform App development framework that was developed by Google and released to the public in 2018, is the new red hot platform that is taking the App development industry by storm.
Flutter already boasts of 2 million developers having used the platform to develop Apps. According to a report in March 2020 Flutter saw a 10% month-over-month growth and nearly half a million developers are using Flutter to create mobile applications every single month.
So what is this Flutter? What is a mobile App development framework? Why is Flutter suddenly so popular and should you get your App developed on Flutter? We explain to you everything you need to know about Flutter App development.
What is an App development framework?
The easiest way to understand a mobile app development framework is to think of it as a library. Like a library is a repository that provides us with resources and tools, an App development framework is a development platform that contains toolsets, compilers, debuggers, coding interfaces etc. In short, a library of software framework that is designed to support and facilitate mobile app development.
Types of App development frameworks
Mobile apps and the App development frameworks can be classified into three different categories:
Native App development frameworks


Native apps are platform specific and must be developed separately for separate platforms(iOS and Android). While they spike the cost of development they are known for their better quality in terms of both aesthetic and functional aspects. Native App development frameworks are used to develop these platform specific native Apps.

Web App development frameworks


Web apps function via browser interfaces. The Facebook web App that you can use on a web browser is a great example of a web App. These are developed using Web App development frameworks.

Hybrid/Cross-platform App development frameworks


Hybrid Apps work across both iOS and Android platforms. Unlike native Apps they only need to be developed once. A cross platform development framework allows a single code to be used for both platforms and removes the need to develop entirely new code for both iOS and Android. Hybrid apps roughly share about 80% of the codebase. Therefore, to launch an application on the other platform, programmers must change only 20% of the code. 

Flutter is an example of a cross-platform App development framework. While Flutter is fast being recognised as one of the best cross-platform development frameworks, here are a few other popular ones.
Popular cross-platform App development frameworks
Xamarin
Xamarin is an open-source cross-platform App development framework that was first launched in 2011 but later acquired by Microsoft which made its credibility score shoot up. Xamarin uses C# for coding and delivers a single tech stack which works on an array of platforms thus ensuring faster development. While Xamarin is free for individuals and startups, enterprises must buy a license which can be a little expensive. Also, Xamarin may not be the best framework for graphic-heavy apps. Fox Sports, HCL, Alaska Airlines and BBC Good Food are some apps made using this framework.
React Native


React Native can be said to be one of the most popular cross-platform app development frameworks out there! It created a wave when it was launched by Facebook in 2015 and still figures in the most trending list of app development frameworks. Depending on the app's complexity, React Native ensures that almost 80% of the codebase can be used across platforms. However, some native components such as camera or accelerometer require a separate code for Android and iOS. Instagram, Skype, Bloomberg, Pinterest, Tesla are some of the big names that have used this framework for app development.

Adobe PhoneGap


Initially known as Apache Cordova this framework is owned by Adobe and uses HTML5, CSS, and JavaScript. What makes this framework better than its competitors is the access to third-party tools, cloud-solutions, a large community and a large number of plugins. However, PhoneGap falls short when it comes to something like gaming apps which are high-performance and hardware intensive apps. Also, PhoneGap apps have been noted to be a little low on performance when compared to native apps. Wikipedia, TripCase and FanReact are some apps made using this framework.

Ionic
Ionic is another open-source cross-platform app development framework that allows you to build hybrid apps for Android and iOS and also progressive web apps. This framework is licensed under MIT and uses HTML5 for translation. Ionic has a strong community of more than 5 million developers spread worldwide and the framework provides numerous UI components for developing apps. However, if you want to design something beyond a basic app, the knowledge of AngularJS will be required for this framework. IBM, ING, SAP and NASA have used this framework for developing their apps.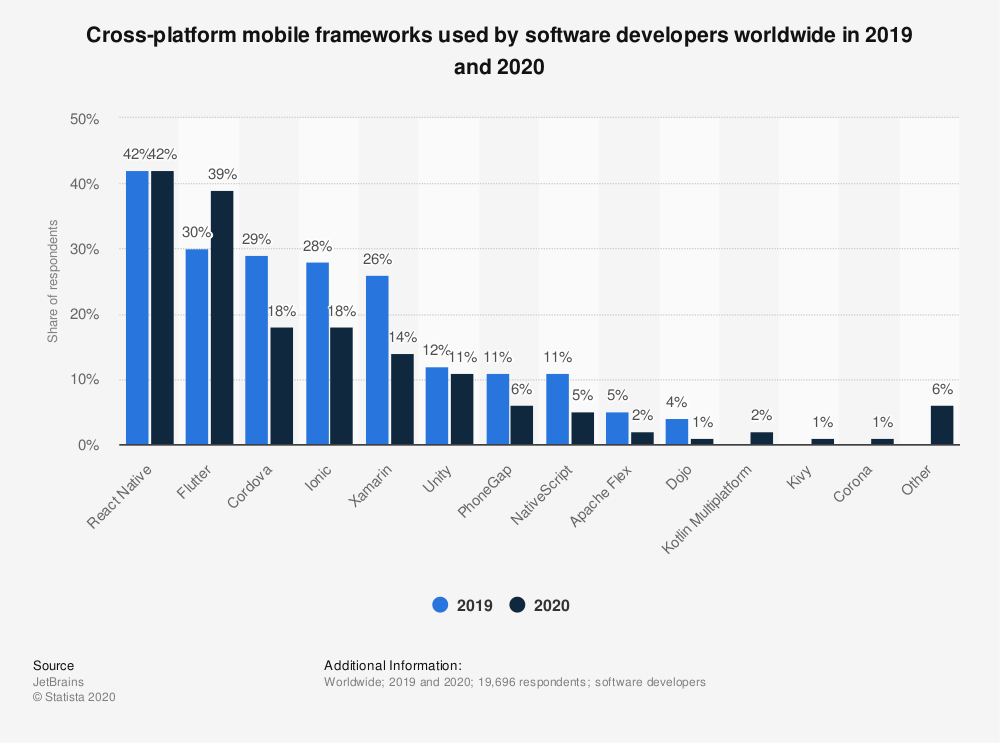 Source: Statista
Many other cross-platform app development frameworks are available. However, from the chart above, it is quite evident how Flutter is fast becoming the framework of choice for more and more developers.
Key features of Flutter App Development Framework
Flutter, another open-source framework, began in 2013 as a startup initiated by YC. It has since been acquired by Google which gives it a great edge over other frameworks in terms of credibility and scope. In 2018 Google launched the first stable version of the open source framework under its new name 'Flutter'.
Uses the language Dart


Flutter uses the language Dart for coding, which is also owned by Google -meaning that both the framework and the language can evolve simultaneously under the aegis of Google.

Huge open source community


Apart from this backing of a renowned corporation, Flutter also boasts of a huge community of developers which continues to grow along with the popularity of this platform. Google, Google Ads, Alibaba and Tencent are all apps developed using the Flutter framework.

Superior aesthetic quality


Flutter is best known for the superior aesthetic quality of its apps. With Flutter the visual appeal does not diminish performance in the slightest way. It offers intuitive widgets, animations and material designs which are unlike any other app development framework.

User friendly UI and UX


Flutter also comes with a UI that is flexible and which makes for a user-friendly UX and ensures the end user is satisfied and charmed by the app's smooth and seamless performance.

Soaring popularity


The above features have made Flutter the framework of choice for many.

StackOverflow

Developer survey found that Flutter is amongst the top 3 most loved frameworks and the top 4 "Most Wanted" frameworks. Going by popularity, Flutter has been one of the most popular app development frameworks of 2020.
What is more, Flutter is all set for being taken to greater heights. The next feather in Flutter's hat will be to develop the framework to support more platforms -Windows and Linux being on the horizon already.
The Pros and Cons of Flutter App development
Like everything, Flutter has its own share of pros and cons. But read on and you'll see how the pros far outweigh the cons of this outstanding framework!
Pros of Flutter App Development
Hot reload


This is by far one of the best features that Flutter has to offer. Hot Reload basically means that changes made by developers to the app can be seen instantly on the app. This saves developers a lot of time as there is no need to restart the app to load changes. It also allows developers a lot of room to experiment with the development process, improvise and test new ideas and also fix bugs on the go.

Widgets


Flutter gives access to a wide range of traditional widgets and also has a full set of widgets in Google's Material Design and in Apple with the Cupertino Pack. Not only this, Flutter also provides you tools to easily create your own widgets. Widgets enable developers to create native-looking apps with the same code base.

Single Code base


This advantage cannot be stressed enough! The fact that you can use a single code base for every platform not only saves your time and money, it also makes the process of app development easier and more efficient with less possibility of errors.

Less testing-time


Being a hybrid app framework, Flutter users can save time on testing as they don't need to write and test two separate codebases.

Easy language


Dart is used for programming in Flutter. Dart is an object-oriented language which is popular among developers for being an easy to acquire language. It is also the fastest growing language between 2018 and 2019 and a total usage of a massive 532% growth over the last two years has been estimated

Minimal Code


The function of the app is enhanced and startup time is accelerated with minimal input of code using the Dart language which uses JIT and AOT compilation.

Ideal for MVP


If you're a startup or just looking to develop a Minimum Viable Product as a pitch to investors, Flutter is the ideal solution for you. You can save the time required to develop two separate apps and also save money by building a Flutter mobile application that will look native without costing as much.
Cons of Flutter App Development
Flutter's popularity continues to rise. But there remain a few things that you need to be mindful of before settling for Flutter as your app development framework of choice.
Flutter has a rich library but there is great scope for addition.

Custom made scripts still need to be used in Flutter.

Flutter apps are not supported by web browsers for now.

Dart is not as popular a language as JavaScript.

Flutter apps don't support Android TV or Apple TV yet.

Apps created using Flutter have above average size -the smallest weighing no less than 4MB.
How Elegant Media decides when to use Flutter App Development!
We at Elegant Media have the best App development team in Australia and NewZealand. Our development team has consistently won awards and developed innovative and creative Apps that are loved by users. 
Our team decides which language and frame works best for an App based on the exact usage and the required features for that App. After establishing the requirements for the App, if our developers feel that Flutter is the best platform for developing the App then we bring our experienced Flutter App developers on that project and build a unique and exceptional Application on the Flutter platform. 
Our expert Flutter App developers are the best in the field and deliver the best applications that can be build on the popular cross platform App development framework.
Conclusion
With more than 109,600 stars on GitHub -the most popular database of repositories- the prospects of Flutter seem very promising in the times to come. 
Book a FREE consultation with our experienced App consultant to find out if you should get your App build on the Flutter App development framework.